Blackpool

Saturday 22nd June 2019
Judge: Mr Arne Foss (Norway)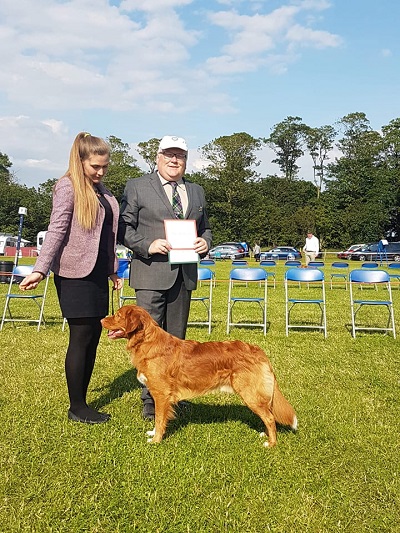 I had a lovely day with a good entry of Tollers and their friendly exhibitors. Only 2 absentees.
Veteran Dog or Bitch (2 entries)
1st
Fielder PLAYING THE FIELDER AT CRETSHENGAN
8 years young male who was masculine and in good condition, well shaped head, very typical in neck and body, moved well, good markings.
2nd
Rogers EUSANIT CHASE THE DREAM
7 years young female, very feminine, would prefer a stronger muzzle, ok coat, moved well and lovely temp.
Puppy Dog (3 entries)
1st
Westwood EUSANIT PROPER JOB
Loved this young male, so balanced and typical for age, correct proportions, masculine in head, lovely topline and broad thighs, moved well going around, can still improve in front movement, good coat texture and temp, BP, BJ and RBD.
2nd
Rogers EUSANIT PEAKY BLINDER
Brother of 1, a little more of him, loved his head, good angulation and strong bone, preferred movement of 1.
3rd
Wardrope ALTER EGO RUSTYFOX (IMP CZE)
Junior Dog (3 entries)
Limit Dog (4 entries)
1st
Newson TIVALAKE LET'S MISBEHAVE JW
He really behaved all the way to BOB, really liked this young male, totally in balance, correct shape of head, typical proportions, lovely coat and markings, typical side gait, well presented, better shoulder placement than 2, BD and BOB.
2nd
Foster-Brown STELLENBOSCH TIBERON (AI)
Correct size, lovely expression, moved well going around, typical coat texture and temp, well presented.
3rd
Wright ERIKACHEN DAITHI OF WRIGHTPAW JW SHCM
Res
Burgess CAMUSMOR KING ROB
Open Dog (2 entries)
Puppy Bitch (1 entry)
1st
Westwood EUSANIT HOT TOTTY
Very typical puppy female, well shaped feminine head, still developing in body, good coat, super temperament, could be better marked.
Junior Bitch (5 entries, 1 absent)
1st
Moult & Savory CROFTWELL TICKETY BOO
Very feminine and a comfortable class winner, very typical in head, good neck, bone, legs and feet, good coat texture, not in full coat, moved well and very nice temperament.
2nd
Burgess MELANITTA SINAMAY
Well balanced female, normal bone, moved well and very typical in temp.
3rd
Westwood EUSANIT HOT TOTTY
Res
Ormes & Halpin DANEHAVEN OTTERTAIL
Limit Bitch (6 entries, 2 absent)
Open Bitch (5 entries, 2 absent)
Nice class.
Stakes/Variety classes
AV Gundog Breeders Dog or Bitch (3 entries)
Judge: Mr David Bell
YKC Handling 18-24 Dog or Bitch (12 entries, 3 absent)
Judge: Charlotte Roskell