Crufts

Sunday 10th March 2002
Judge: Mrs Meriel Hathaway (Melfricka)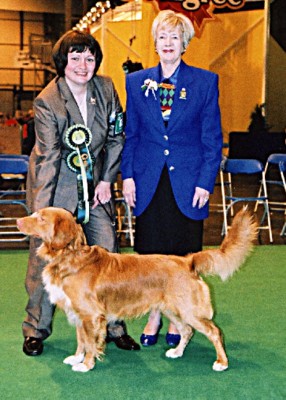 A great privilege to judge the breed with classes for the first time at Crufts. Some would have been more interested if they had been judged outside by the lake, with ducks and geese flying off, which was where I judged them on a previous occasion, and where they showed their typical attitude!
Special Junior Dog (3 entries)
1st
Russell NEWFANOVA PUDSEY BEAR
Liked his earset and carriage, skull shape and good muzzle. Nice eye shape and set, good depth of rib. Double coat of correct texture. Correct dentition. Needing to tighten in front, but scored here for his very alert and friendly attitude.
2nd
Holt NEWFANOVA CHANCIE BEAR
Made in a smaller mould, liked his overall balance and construction. Smaller head and body properties, correct dentition. On the day obviously would have preferred to be outside, using his working abilities.
3rd
Dearbergh MELANITTA MOONSHINE
Lovely overall outline and attitude, lovely coat. Presented a most attractive picture.
Post Graduate Dog (6 entries)
1st
Winwood & Ward MELANITTA FAZZINATION
Really bright alert attitude. Good earset and carriage. Well constructed body, compact, well muscled, good bone and feet. Excellent double coat of the correct texture. Good tail, well set and good carriage on the move.
2nd
Crisp ST DAY JUSTABOYO
Lovely body balance and construction. Liked his head, ear carriage and set, good eye shape, grand bright expression. Good coat, not quite the feet of the winner.
3rd
Page & Robbins NEWFANOVA THE NORSEMAN
Really good in body and attitude. Completed a most attractive trio of grand dogs.
Res
Mortimore FOXDOWN LAID BACK SAM
Open Dog (11 entries)
1st
Harding & Whitehill NAROD THE IMPOSSIBLE DREAM
Headed a cracking class. Just fitted my interpretation of the breed standard. Medium compact size, wonderful attitude and temperament. Liked the breadth and shape of skull, lovely almond eyes, well set with a bright friendly expression. Good earset, shape and carriage. Strong neck into good length and angulation of blade and upperarm, well ribbed, strong muscular quarters. Good tail carriage, sound movement. Gorgeous gleaming coat. Best Dog and Best of Breed.
2nd
Rees LYONHOUSE COLIN
Really alert, friendly temperament. Liked his earset and carriage, good bone, well ribbed, strong loin and quarters. Good feet, thick pads, in excellent muscular condition. Sound on the move with a good tail carriage. Res Best Dog
3rd
Amos DECOYMANS PIPER OF GUNTON CDEX UDEX WDEX TD
Grand dog, wonderful temperament, compact muscular body and a really bright, intelligent expression.
Res
Russell INT/IR SH CH WINFREN VULPAQULA CADIAN
Special Junior Bitch (1 entry)
1st
Rogers QUOYGARD SKY
Very sweet and feminine. Bright expression, good front, nails could have been a little shorter to improve feet. Strong quarters , at this age, just the right body development. With maturity should be very impressive with her well constructed body. Really excellent double coat in gleaming condition.
Post Graduate Bitch (8 entries)
1st
Somerset FOXDOWN PERIWINKLE OF RUBYRON
Carrying a little extra weight on the day, but scored on her really alert, bright attitude. Compact body, good bone and feet. Attractive, sound movement. In excellent double coat, gleaming condition. Good tailset, set and carriage. Good feet, thick pads. Best Bitch.
2nd
Page DECOYMANS PIPER FANTASY IN SEASMOKE
Very feminine. Not quite as compact as winner. Well ribbed, in excellent coat. In hard, muscular condition. On the day a little bored with the proceedings, would probably have been more alert if we had had a few ducks - or even pigeons - present!
3rd
Powley JABY LAVENDER AT DANEHAVEN
Very sweet, feminine. Balanced body, could be better in feet.
Res
Doran NAROD DREAM CATCHER
Open Bitch (10 entries)