NSDTR Club of UK Championship Show

Sunday 20th March 2016
Judge: Mrs Elaine Whitehill (Brizewood/Trevargh)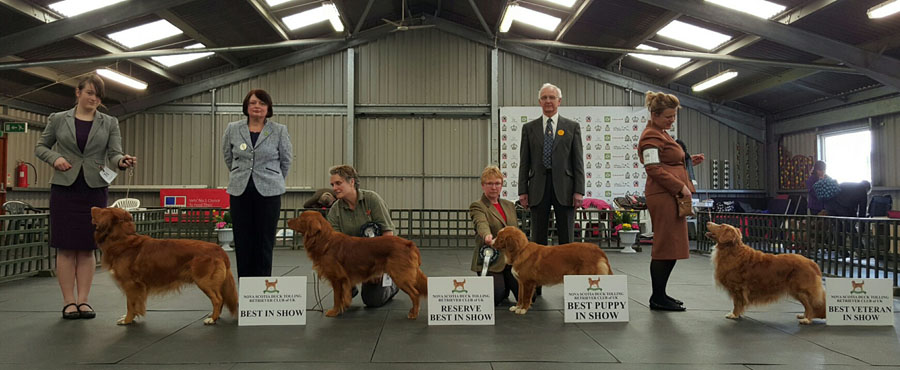 The N.S.D.T.R. Club of UK held a Ch. Show at Tomlinson's Kennels & Canine Centre, Leicestershire, where BIS was Seahaven's Galactic Storm At Wulawowe; Res BIS - Camusmor Stargazer JW; BOS - Seahaven Parish Bell; BPIS – Eusanit Naughty But Nice For Croftwell and BVIS – Corlitgold Malila Of Croftwell.
Veteran Dog (4 entries, 2 absent)
1st
Reader EUSANIT VISIONS OF CHILLBRAV
Now 8 years old, in good coat and condition. Well muscled quarters and moved well.
2nd
Rogers EUSANIT TAKE IT EASY
Approaching 10yrs – Still has the enthusiasm for showing. In good coat, carrying a little extra weight despite this he moved soundly.
Puppy Dog (4 entries, 1 absent)
1st
Westwood EUSANIT CATCH ME IF YOU CAN
Most mature in this class and in good coat for age. Has depth to chest. Good amount of bone and stands on tight feet. Would have preferred better shoulder angulation. Steady sound rear action when on the move.
2nd
Fuard TOLLELKIN BAY OF ICE
Real baby at 6½ months. Ample amount of bone for age. Good head & neck. His coat was just starting to develop. Just needs time to mature. Moved steadily.
3rd
Rice & Collins GABERLUNZIE PIPER
Junior Dog (8 entries, 2 absent)
Good class of young dogs and I enjoyed judging this. Headed by
Yearling Dog (6 entries)
Novice Dog (5 entries, 2 absent)
Graduate Dog (1 entry)
Post Graduate Dog (4 entries)
1st
Wright ERIKACHEN DAITHI OF WRIGHTPAW
3rd in a very competitive junior dog class. A change of handler in this class. Lots to like about this boy, good head and eye. Has a straight front. In good coat and condition. Well bodied. Much more settled on the move in this class therefore drove around the ring. Good muscle tone. I believe this win gained his Junior Warrant. Congratulations.
2nd
Andrews ERIKACHEN CAOIMHIN FOR AFTONMARSH
Nice head & eye, good reach of neck. Another dog in full coat and good condition. Very attentive to handler. Moved soundly.
3rd
Obern TIVALAKE ROCK ME BABY
Res
Reader EUSANIT HIGH FLYER AT CHILLBRAV
Limit Dog (8 entries, 2 absent)
Open Dog (7 entries)
1st
Gray SEAHAVEN'S GALACTIC STORM AT WULALOWE
Caught my eye when entering the ring. I have judged him previously and awarded res CC. Now fully mature, in excellent condition – his coat gleamed. Masculine head and expression, lovely reach of neck into well laid shoulders. Well muscled quarters with correct bend of stifle. Moved with reach and drive. He couldn't be denied CC & later BIS. Many congratulations to all concerned.
2nd
Burchell TIVALAKE JINGLE BELL ROCK SHCM RL2
Judged this boy before. Good head and reach of neck into correct shoulders. Well muscled. Moved with drive and his usual verve and enthusiasm. Today just wasn't in his best coat unlucky to come against 1 in such form.
3rd
Palfrey FOXDOWN BERTIE ALLSORTS
Res
Andrews ERIKACHEN RUARI FOR AFTONMARSH
VHC
Reader EUSANIT VISIONS OF CHILLBRAV
Special Working Dog (7 entries, 2 absent)
Veteran Bitch (7 entries)
Lovely class of 'young ladies' to judge.
Puppy Bitch (4 entries)
1st
Moult & Savory EUSANIT NAUGHTY BUT NICE FOR CROFTWELL
Very mature for age, she was in good coat & condition, nice head & eye. Good depth to chest. Good amount of bone, stood on tight feet. Moved well for age. Awarded her BPIS over her litter brother.
2nd
Westwood EUSANIT BEST OF THE BUNCH
Litter sister to 1, little difference between these two. Much of the above applies here. Just felt that 1 was more mature and together on the move. No doubt they will change places many times.
3rd
DISQUALIFIED
Res
Elkin TOLLELKIN WATER DANCER
Junior Bitch (4 entries)
Yearling Bitch (2 entries)
1st
Russell & Smith SEAHAVEN BEWITCHED BY CEDARLAKE
2nd
Newson TIVALAKE MORE THAN WISHES
Lots to like about this young lady. Pretty head, leading into good length of neck & good shoulders. Plenty depth to chest, good front with tight feet. Moved with purpose. Unfortunately, she was totally out of coat therefore looked immature to 1.
Novice Bitch (4 entries, 1 absent)
Graduate Bitch (2 entries)
1st
Claxton TOLLERICE BERTUZZI BEG-EX
Lovely feminine head with almond shaped eye, good reach of neck into well laid shoulders. Level topline. Ample bone with straight front. Well muscled quarters & moved with ease. Just needed coat to complete the picture.
2nd
Chapman DECOYMANS THE DREAMWORKER
Different type to 1. Heavier constructed especially over shoulders. Straight front leading to good feet. Would prefer less weight this affected her movement and overall appearance.
Post Graduate Bitch (5 entries)
Limit Bitch (8 entries, 1 absent)
Open Bitch (6 entries, 3 absent)
Special Working Bitch (5 entries, 1 absent)