Crufts

Friday 11th March 2016
Judge: Mrs Brenda Smith (Dallyvista)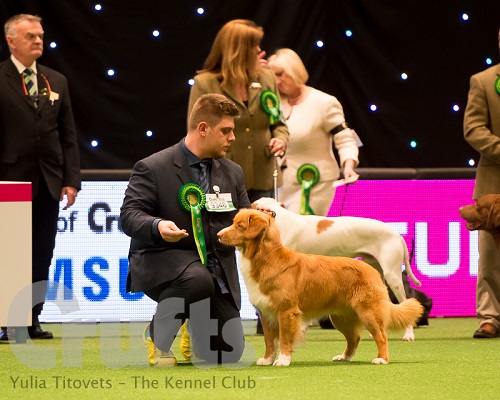 Dog CC Challenge
Very many thanks for the superb entry of 237 from 169 exhibits. The quality of the breed has greatly improved since I last judged them at Windsor. The temperaments as usual were happy & friendly & many wagging tails. Just a couple of the youngsters were a little apprehensive in strange surroundings. I did notice that eyes are getting too round & not the almond shape as per the Standard but all eyes were a good colour. Toplines also need watching as a few were dipping behind the withers. I was impressed by the quality o the puppies & juniors. So good for the future of this lovely breed. I was very impressed by the presentation of the exhibits, my hands remained very clean throughout the classes. I was unable to take more details of the winners due to the lovely large entry & the time schedule involved. Many thanks to my very able stewards who kept the ring running very smoothly.
Veteran Dog (9 entries, 3 absent)
Minor Puppy Dog (1 entry)
1st
Westwood EUSANIT CATCH ME IF YOU CAN
Lovely puppy just 8 months. Nice head & expression, shows a nice outline when standing, good coat & colour. Just needs to control his movement. BPD. Very promising.
Puppy Dog (3 entries)
Junior Dog (11 entries)
Yearling Dog (14 entries)
Post Graduate Dog (16 entries, 1 absent)
Limit Dog (18 entries)
Open Dog (15 entries)
Special Working Gundog Dog (3 entries)
Good Citizen Dog Scheme Dog (13 entries)
Veteran Bitch (13 entries, 3 absent)
Minor Puppy Bitch (2 entries)
1st
Moult & Savory EUSANIT NAUGHTY BUT NICE FOR CROFTWELL
This is a lovely puppy. Really nice head, eye & expression. Lovely coat with correct marking. Moved gaily & well. Very promising BPB.
2nd
Westwood EUSANIT BEST OF THE BUNCH
Litter sister to above & a lot to like. Nice head & expression. Not quite as forward but moved well.
Puppy Bitch (3 entries)
Junior Bitch (8 entries, 1 absent)
Yearling Bitch (11 entries)
Post Graduate Bitch (24 entries, 6 absent)
Limit Bitch (22 entries, 2 absent)
Open Bitch (20 entries, 3 absent)
Special Working Gundog Bitch (7 entries)
Good Citizen Dog Scheme Bitch (19 entries)