Crufts

Sunday 11th March 2018
Judge: Mrs Brenda Hutchison (Waverton)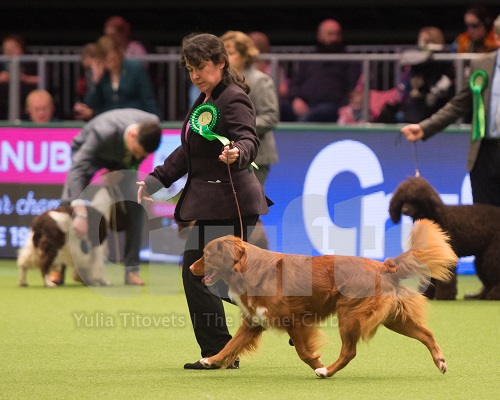 Thank you to exhibitors for this wonderful entry and for being so very sporting and accepting of the awards. I must also thank my wonderful stewards, Chris John and Ed Forsey, who kept everything running smoothly and anticipated beautifully what I wanted them to do. Apologies for the brevity and same-iness of the critiques – writing 3 critiques per class against the clock didn't give much scope for inventiveness.
I was looking for dogs that were fit for function – sound and well-constructed with the right coat for a dog required to retrieve from very cold water. My principal winners had all these attributes. I found that type was more even than when I last judged. However, I noticed quite a few exhibits were 'long and low', and some looked even longer because of incorrect shoulders. I did not like over-conditioned, fluffy coats where the natural oils were missing. Mouths and temperament were good.
Veteran Dog (12 entries, 2 absent)
1st
Harding & Whitehill SH CH TREVARGH THE ENTERTAINER AT BRIZEWOOD
11 years old in wonderful nick. Masculine head with a good ear set and eye shape and colour. Well-balanced throughout super stifles, firm top line, tail carried well and moved with style and drive. Last time I judged him I awarded him the CC on this occasion he had to give way to a younger star.
2nd
Powley SH CH DANEHAVEN DETROIT
Nearly 12 years, more stop than one but very nice expression, alert. Good angulation at both ends, deep chest with a good forechest and a firm topline. In good coat, moved and showed well.
3rd
Loebel AM GCH DANEHAVEN MCEACHERN
A very smart boy, not quite the head of the first two in my opinion but very typy and balanced. Super neck, well angulated at both ends. Straight front, correct bone and tight feet. Showed well.
Res
Baker ERIKACHEN AONGHUS
VHC
Burchell TIVALAKE JINGLE BELL ROCK SHCM RL2
Minor Puppy Dog (1 entry)
1st
Copeland CAMUSMOR BRINGMESUNSHINE TO MENSTONIA
Very promising baby with excellent balance for age. Good head. Super front, bone and feet. A little steep in croup at this stage. Front movement needs to tighten but a very attractive baby.
Puppy Dog (5 entries)
1st
Parr KYMIN UPSHI KREEK
11 month old who scored over 2 on condition but both were very nice pups. Head was typy with a good wedge, correct ears, lots of coat made him look a little stuffy on the neck, but this was not so. Developed nicely all through for his age. Moved with style and drive.
2nd
Johnson STELLENBOSCH ALAMEDA OF TARNLAIKERS (AI)
11 months old, darker coat. Very masculine head with good eye colour. Super balance spoilt by lots of coat and surplus condition. Nicely made all through and went well. He had good angulation correct bone and feet.
3rd
Foster-Brown STELLENBOSCH TIBERON (AI)
11 months old, brother to number two. Appealing head. Less developed than 2 but a reasonable balance for age. Good angulation, nice front and feet, good topline. Moved well and showed alertly.
Res
Harris & Page TOLLERICE DESJARDINS
VHC
Hanvey & McAlister DREAMYRIVER FOUND MY PRINCE
Junior Dog (10 entries, 1 absent)
Yearling Dog (6 entries)
Post Graduate Dog (19 entries, 1 absent)
A super class where I was spoilt for choice.
1st
Steer DANEHAVEN ROSCOE
Nice sized dog with good balance. Lovely head. Correct angulation and good topline. Nice depth of chest. Good bone. Moved with drive and showed well.
2nd
Bassil TIVALAKE MY LUCKY STAR
Good make and shape, attractive head with good planes. Liked his angulation and his deep body. Good straight front. Showed well and moved with drive.
3rd
Burgess CAMUSMOR KING ROB
Another medium sized dog with flowing lines. Nice head, good front and rear angulation and firm topline. Not quite the depth of chest of winners. Showed and moved well.
Res
Burchell & Scott TIVALAKE MAKE 'EM LAUGH JW
VHC
Wilson STACEARELLA NIMBUS
Limit Dog (14 entries)
1st
Vaughan BORN TO RUN FOR VALSANNRA
This dog had a beautiful outline and balance. Very finished. Most attractive head. Correct angulation at both ends with good topline. Lovely bone front and feet. Moved with style and drive.
2nd
Steer DANEHAVEN ROSCOE
3rd
Wakely RIVERWATCHER KAVIKSUK
Darker dog. More upstanding than the winners. Heavy ruff which didn't do his neck any favours. Masculine head with good planes. Good forechest and angulation at both ends. Would like a little more depth at the loin. Went well and showed alertly.
Res
Davies KATMISTSKY'S SOUL DREAM RL6-EX
VHC
Parr KYMIN NEPTUNE
Open Dog (12 entries, 1 absent)
1st
Strevens SH CH ERIKACHEN CONAIRE AT TOLLISTY JW SHCM
My star of the day - a medium-sized dog coming to his best. I awarded him Best Puppy in Show at URC nearly 3 years ago, and he has fulfilled his early promise. Typical all male head with an alert expression. Nice balance and flowing lines. Good topline and carried his tail well. Correct forechest and angulation. Moved soundly and showed well. Pleased to award him CC, and BOB over a very nice bitch.
2nd
Breuer-Pieron MULTI CH DUCKINSON JAGUAR
Taller dog with a different but equally typical head. He also had a lovely flowing lines, with super angulation and good topline. Correct bone front and feet. I preferred the size of one. RCC
3rd
Hoornaert MULTI CH ALLIANCE DE LA VIE FOX FINDER
Lost out on head to the first two, in my opinion. Again good flowing lines, well made throughout. In good coat and condition. Moved and showed well.
Res
Wakely RIVERWATCHER NUKILIK
VHC
Jorda-Raddatz ABSOLUT FIRST RASMUS GARONERA
Special Working Gundog Dog (4 entries, 2 absent)
1st
Titovets & Eremin MULTI CH DELONGSTAR DIAMOND DREAM RL6-EX
Not a big one but very nicely made. Close fitting coat. Head masculine but unexaggerated. Lovely neck into super forequarters. Good bone, front and feet, and super stifles. Moved with drive and showed well.
2nd
Wibaux MULTI CH KITIMAT PISTACHIO
A bigger dog with a lovely head and a beautiful outline. Well made throughout, presented in lovely condition. Not moving at his best behind today, but completed a pair of super working dogs.
Good Citizen Dog Scheme Dog (10 entries, 1 absent)
Veteran Bitch (10 entries)
Minor Puppy Bitch (no entries)
Puppy Bitch (6 entries, 1 absent)
1st
Davies CATCH FIRST YLVA GARONERA (IMP CZE)
11 month old balanced bitch who is mature for age. Pretty head. Good neck and shoulders and deep chest for her age. Super bone, front and feet. Moved with drive and style. BPIB
2nd
Parr KYMIN UP HILL
Another 11 month old with a very sweet head and typical expression. Nice size. Not heavily coated but good angulation at both ends, good depth of chest, level topline. Nice bone, feet and front. Moved and showed well.
3rd
Rice TOLLERICE DANEYKO
Completed à nice trio of good bitches. Very neat lines. A little higher on the leg than one and two, and with less coat but still looking good. Super neck and topline. Well angulated. Showed and moved well.
Res
Foster-Brown STELLENBOSCH SAUSAULITO (AI)
VHC
Buckingham CATCH FIRST SVEA GARONERA (IMP CZE)
Junior Bitch (17 entries)
This was a strong class.
Yearling Bitch (14 entries)
Post Graduate Bitch (23 entries, 4 absent)
This was a super class and these three did well to gain their places. None of them carried surplus weight.
1st
Frater DANEHAVEN MILL
Very feminine and balanced young lady with a very typy head. Lovely line from neck to topline. Good angulation at both ends. Correct bone, and front and feet. Moved soundly and showed alertly.
2nd
Carnovale KYMIN ORANGE BLOSSOM OF RHEE
Also very typy. Not quite the flow of neckline of 1, but has lots of coat there. Good angulation fore-and-aft, plenty of bone and straight front. Nice depth of body, short coupled. Good coat and condition. Moved and showed well.
3rd
Elkin TOLLELKIN WATER DANCER
Another very pretty head. Mature, deep body with good topline. Nice forechest and straight front with good bone. Showed alertly and moved well.
Res
Russell & Smith SEAHAVEN BEWITCHED BY CEDARLAKE
VHC
Allen FIELDRANGER'S FIZZY POP
Limit Bitch (16 entries, 2 absent)
Open Bitch (15 entries, 2 absent)
Special Working Gundog Bitch (7 entries)
Good Citizen Dog Scheme Bitch (15 entries, 2 absent)