Crufts

Saturday 11th March 2017
Judge: Mr Jeff Luscott (Jalus)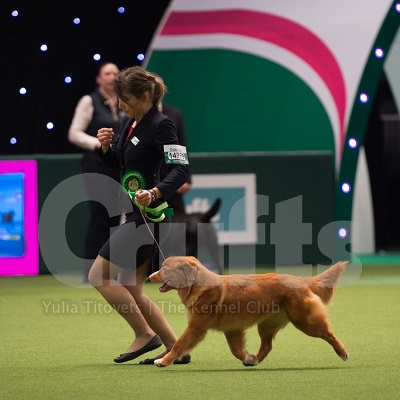 Thank you for a fantastic entry, I really enjoyed my day amongst sporting exhibitors & the atmosphere around the ringside. There were superb exhibits on display, with lots performing to the high standards required & the classes being filled, I would like to have seen better use of the tail in some cases but as we were inside & not out in the field I did forgive some of these exhibits. The quality was extremely high & with close decisions to be made in most classes it did mean that some exhibits sadly did not receive a place card. It was good to see a quantity of the dogs moving out well, on good angles & a jaunty stride, taking these dogs to the top in the classes. Both challenges were very competitive & my CC winners were on form & working hard to top their respective genders. The BOB eventually going to the junior bitch on superb form looking great & moving with the correct tail carriage to attract the birds.
Veteran Dog (13 entries, 2 absent)
1st
Harding & Whitehill SH CH TREVARGH THE ENTERTAINER AT BRIZEWOOD
Strong boy with a typical head shape, has the skull & muzzle, good muscular neck & front with the bone & substance through his body, he moved well on excellent feet, good use of the tail when in action. One I have admired before & still going very well as a veteran taking the RCC today, a great performance winning a superb class of veterans.
2nd
Hoornaert MULTI CH ALLIANCE DE LA VIE THUNDERCLAP
Presented in superb condition he carries a typical head, has the front with good bone, loved the body, length & strength, good muscled quarters, strong action on the move, close up in the decision.
3rd
Powley SH CH DANEHAVEN DETROIT
Slightly bigger lad but sound, with good overall balance, pleases in head, he works easily on muscled quarters with good action on the move, carries his tail to attract, goes well with his handler enjoying his day out.
Res
Baker ERIKACHEN AONGHUS
VHC
Loebel AM GCH DANEHAVEN MCEACHERN
Minor Puppy Dog (2 entries)
1st
Hampson SOMERZEST FUNTASTIC FLYER
This youngster has the balance & shape with a good developing head & neck, he has the rear end & tailset with the white tip, he moved easily, showing lots of promise.
2nd
Collins & Powley DANEHAVEN KOVIK
Stronger & bigger boy for 7½ months, has the depth & body developed, has strong rearquarters but not as coordinated in the movement as 1, more time to work on this as he grows.
Puppy Dog (4 entries)
1st
Titovets & Eremin MACDREAMS TRENT FROM CASHEL VALE RL1 (IMP NLD)
10 months with the balance & shape, he is building well through body, has the typical head, shown in great condition, he has excellent quarters with a good bend of stifle, lovely purposeful action on the move with his tail held to attract, shown with good style to take the class & BP.
2nd
Langford TOLLERHOLME JACK IN A BOX
Lively boy with a good body & condition, he is a smart mover, with his tail held well, he is good through head & neck, has a solid the rear end & shown with good coat cover, one to watch for the future.
3rd
Foster-Brown LOREVY SHUGAR FOR STELLENBOSCH (IMP RUS)
Happy lad enjoying his day, finer through at present, he has the head, neck & topline, is good in his developing body, he carries his tail well & has the jaunty action required.
Res
Collins & Powley DANEHAVEN KOVIK
Junior Dog (10 entries)
1st
Breuer-Pieron JAVAHILL'S RIDER IN THE SKY
So typical of the junior stage, but with good attributes in outline, strength, & balance, typical in head, with the neck & front, excellent reach & drive on the move, certainly covers the ground with his action. Lots of promise for the future.
2nd
Burchell & Scott TIVALAKE MAKE 'EM LAUGH
Taller & leaner boy at this stage, carries good angles front & rear, just needs to build in body & grow his coat, excellent handler, making the most of his great movement, lots more to come here.
3rd
Knuttson RUS N' RIV TS AIN'T NOTHING 'BOUT Y
Strong red lad with a typical head, good mouth & strong neck, he has the balance in body, good rib & solid rearquarters, goes well on the move & tail held OK.
Res
Douma & Van Der Zijden ALBA NUADH GWENNY'S WORKING SECRET
VHC
Titovets & Eremin MACDREAMS TRENT FROM CASHEL VALE RL1 (IMP NLD)
Yearling Dog (14 entries)
1st
Dee MELANITTA CARELINUS
Strong & compact with a good head type, I liked the front body & muscled loin, he has excellent rearquarters, the right shape & moves with the tail well set, his carriage around the ring showed off that springy & jaunty action he has when moving, putting in a great performance to win the class. Considered in the challenge.
2nd
Baldwin WAKADUZE WAKPA
Lots to like about this young man, good head balance, well set ear, strong mouth & teeth, good body, well ribbed chest, a strongly muscled loin, good tailset, & handler working hard to present him at his best on the move to go close here.
3rd
Zavodny HEYOKA'S RED FLAME FOR EDISON HOPE
Attractive boy with the head & expression, he has a good front & rear action, strong in topline with the loin & rear end, built well in body & great on the move, shown in lovely condition, going close in the decision.
Res
Burchell & Scott TIVALAKE MAKE 'EM LAUGH
VHC
Antheunis EVVIVA LA VITA ASSASSIN'S ARROW
Post Graduate Dog (15 entries)
1st
Gibson ERIKACHEN CONLAOCH DEARG
Lovely flow to this striking dog, excellent balance in head, with good ear, eye & neck, he is built on strong quarters with the tailset which is used to attract on the move. Overall a good outline & is typical of the breed.
2nd
Davies KATMISTSKY'S SOUL DREAM RL5
Not up to 1 in head proportions, but has the muzzle & teeth, he's built with good structure in body with strong rearquarters, went with a good action to take this place in the class.
3rd
Morgan ERIKACHEN O'RUADH FOR DELTANDAMBA JW SHCM
Good coloured red boy of excellent substance & power in body, has strong rearquarters to propel his action around the ring, pleases in head & neck with good coat cover.
Res
Steer DANEHAVEN ROSCOE
VHC
Rice TIAMARIA HARVEST GOLD
Limit Dog (10 entries)
1st
Strevens ERIKACHEN CONAIRE AT TOLLISTY JW
Impressive in type, balance & shape, good over the outline with a typical head, he has the neck, strong body & muscular rearquarters, he moves with purpose & an active tail taking him to win the class, a well handled & conditioned dog, considered in the challenge.
2nd
Powley CHRILIKAS DUKE OF DANEHAVEN (IMP NOR)
Balanced & stylish with a good overall outline & strong frame, slightly longer in length, but still of a good type, has a good muscular rear end & went well on the move to take this spot in the class.
3rd
Wakely RIVERWATCHER NUKILIK
Strong well balanced boy with good bone, front & chest depth, good through outline, standing & on the move, good coat cover, pushed hard in this class.
Res
Palfrey FOXDOWN BERTIE ALLSORTS
VHC
Hedges ERIKACHEN FLANN
Open Dog (21 entries, 3 absent)
Superb class with many good exhibits sadly going cardless today.
1st
Anstead MULTI CH RIVERWATCHER ATKA
Strong & powerful boy with good energy, he is typical in head, body & substance, good topline, rear end, lovely tailset with the feathering, great muscletone & condition, has a very sound action on the move covering the ground with ease. Overall a super performance to just to pip the veteran for the CC.
2nd
Wright ERIKACHEN DAITHI OF WRIGHTPAW JW SHCM
Great proportions with the body balance on shape, he carries the stamp & type, through head, neck, body & rearquarters, working well on the move with the tailset to attract, strong challenger here.
3rd
Parr KYMIN NEPTUNE
Good solid strong boy with the overall outline & shape, appeals in head & neck, tends to lose his topline when standing but it all comes together on the move showing his real style & workmanlike motion, good effort in this class.
Res
Harding & Whitehill GLENDERMACKI FOX CRAGG AT BRIZEWOOD
VHC
Burchell TIVALAKE JINGLE BELL ROCK SHCM RL2
Special Working Gundog Dog (4 entries)
Good Citizen Dog Scheme Dog (11 entries, 1 absent)
Veteran Bitch (15 entries, 3 absent)
What a beautiful class of mature ladies, good to see they are still enjoying the show ring.
1st
Tangnes CIE CHRILIKAS CASABLANCA WILDB NILA
Active lady with a lovely head & outline, she has good angles front & rear, uses herself well with a good tailset, she is quality on the move, covering the ground with an impressive stride.
2nd
Van Kessel-Van Eijndhoven MULTI CH ALBA NUADH ABBY NA MAYLA
Good type here in head & shape, she has the right balance to her frame, she is shown in great condition, has the coat cover, lovely movement, pushing the winner all the way to take the second spot.
3rd
Savory & Moult CORLITGOLD MALILA OF CROFTWELL RL2-EX
10 years young, with the attitude & outlook, she's good in type, with a feminine head, she is built well & shown with style, a credit to her handler.
Res
Anstead RIVERWATCHER IKKUMA
VHC
Wibaux MULTI CH CASSIOPEE DU VAL DES GRANGES
Minor Puppy Bitch (no entries)
Puppy Bitch (3 entries, 1 absent)
1st
Nottingham TOLLERHOLME JOVIALITY
Pleasing in type, this youngster has a good balance & shape, carries the head, good neck & building in body, she goes well on the move & has lots of promise.
2nd
Tester GINGAFING LET'S GO CRAZY
I liked the shape & balance on this girl, she is good through the body & topline for this stage of her development, not quite the confidence of the winner but the handler can work on this.
Junior Bitch (12 entries, 1 absent)
1st
Bianchi JAVAHILL REDHOT SHOWOFF2 DEL VECCHIO MULINO
Quality girl of excellent proportions, she has the strength of frame & outline, a typical head greets you as you approach, balanced through skull & muzzle, with a strong jaw, she has the neck & shoulders, I loved the topline, tailset & typical action on the move, covering the ground with ease, she was on top form today in taking the class, looked beautiful & workmanlike in the challenge taking the CC & out moving the dog to take the BOB today.
2nd
Van Kessel-Van Eijndhoven ALBA NUADH GWENNY'S BEST KEPT SECRET
Typical in head with a lovely eye & earset, good mouth & strong jaw, solid through her body, slightly longer in back, but excellent on the move & shown in good condition of coat.
3rd
McAuliffe TIVALAKE TEMPTATION
Loved the head, neck, topline & rearquarters on this young lady, going well on the move but not quite the width in the rear yet, handled well to take this place in a very competitive class.
Res
Glaadh KOPPELDRAGET'S MYNTA
VHC
Favre-Whitmore THINK WONDERFUL THOUGHTS
Yearling Bitch (17 entries, 2 absent)
Another good class of younger stock.
Post Graduate Bitch (23 entries, 6 absent)
1st
Newson TIVALAKE MORE THAN WISHES
Good outline & balance, she has the head, good depth of chest, she is well built through body & rearquarters, she moved with a good action, goes easily over the ground, would like a little better tail carriage on the move.
2nd
Frater DANEHAVEN MILL
Smart type with a lovely head & eye & earset, she has a good front, chest & mature body, pleases in coat cover & is good on the move.
3rd
Adshead DANEHAVEN VERMILION FOR AFONBACH
Lovely head type with a good strong muzzle, she has the front & chest depth, a good flow through neck & body to her solid rearquarters, she was moving with a nice overall action.
Res
Shore REDAURORA GOLDEN DREAM BEG EX RL3
VHC
Wallwork EUSANIT CHINEESE WHISPERS AT SCHINDOW
Limit Bitch (17 entries, 4 absent)
1st
Burchell TIVALAKE COVER GIRL RL1
Lively striking girl with a typical head, neck & flow over the topline & rear end, she carries a good front, compact body, she's good through her rearquarters & has an excellent tail carriage, she has the coat cover & was going with the right action on the move, she gave her all in the challenge to take the RCC today.
2nd
Buckingham KYMIN MEDART
Active, quality girl, not the biggest, but could do the job, she has a lovely head, good body development, but could improve in her muscletone, going with purpose in a lovely balanced action.
3rd
Moult & Savory EUSANIT NAUGHTY BUT NICE FOR CROFTWELL JW
Good head, build in body, chest & well sprung ribs, she's slightly longer in her strong loin, but went really well in action, with the attraction in tail & condition of coat cover.
Res
Johnson SEAHAVEN'S GLORIANA
VHC
Collins & Powley DANEHAVEN DETROYES
Open Bitch (16 entries, 2 absent)
1st
De Jong MULTI CH DESIRE OF RED GLORY
Lovely for type & balance, carries good bone & front, she has a good outline & shape, pleases in head & neck, she's a quality girl on the move with the reach & drive, uses her jaunty action to the full, but could make a better use of the tail, as I'm sure she does in the great outdoors. Close in the challenge but giving way to the younger stars today.
2nd
Savory ALLIANCE DE LA VIE RABBIT RACER OF KATIMBA (IMP NLD)
Another lovely girl with a likeable shape, she is well built through chest, body & rearquarters, she attracts in head, with a good mouth, she is balanced on the move with the tail & an easy action.
3rd
Anstead RIVERWATCHER PIKPAKTUK JW
Impressive girl with the tailset & carriage, she is good in overall body, she has the outline & excellent rearquarters giving her good motion in action, close up in a good competitive Open class.
Res
Westwood SH CH/IR SH CH EUSANIT APPLE OF ONE'S EYE JW
VHC
Ward FLUSHPOINT WHATA ACCIDENT FOR MELANITTA (IMP SWE)
Special Working Gundog Bitch (6 entries)
1st
Tangnes CHRILIKAS D'HALLOWEEN SCARECROW
Active & agile with the head, size, body & shape, she has a strong topline & muscled rearquarters, good action & tail usage gave her advantage to win this class, lovely work on the move.
2nd
Wibaux FR CH HALIENOR DE L'ABBAYE DES TERRES DE FLANDRE
Another putting on a good moving & working performance, attracts in head & overall balance, is built well through the body, carries the tail & would work well to do the job required.
3rd
De Jong FINAL FANTASY OF RED GLORY
Good coloured red girl, aptly named, she is built well with the muscletone & strength in body, good power on the move from the drive at the rearquarters, she has an attractive head, skull, & earset, working well with her handler to get this position.
Res
Sanford ERIKACHEN LASADOIR RL6-EX
VHC
Hunt SK CH WHISPERING REED'S HUTAMYA AT WAKADUZE (IMP BEL)
Good Citizen Dog Scheme Bitch (11 entries)