Crufts

Thursday 7th March 2019
Judge: Mrs Elaine Whitehill (Brizewood/Trevargh)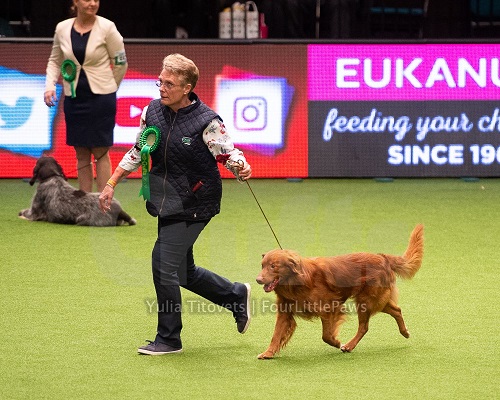 My thanks to the Crufts show committee for inviting me to judge, my stewards who kept the ring flowing and of course the exhibitors for accepting my decisions. It was a super entry.
Having shown and judged the breed over a number of years, I have a few concerns. We are losing breed type, many are lacking substance, no angulation (front & rear), movement, and lack of double coat. It is important to keep the construction and aptitude to maintain the unique Toller traits.
After saying that, overall I was pleased with my main winners.
Veteran Dog (15 entries)
Strong class to start with. It was a pleasure to judge and a close decision between all three.
1st
Loebel AM GCH DANEHAVEN MCEACHERN
Delighted to go over this boy. He has good head, clean neck and shoulder construction. In full coat. Straight front and stood on tight feet. Correct rear angulation and well muscled. Moved out well belying his age.
2nd
Burchell TIVALAKE JINGLE BELL ROCK SHCM RL2
Difficult decision between 1. Balanced head with correct ear placement. Good reach of neck. Correct shoulder angulation and straight front. Well muscled quarters allowing free flowing movement with drive. Unlucky to come against 1.
3rd
Palfrey FOXDOWN BERTIE ALLSORTS SHCM
Have judged this boy previously, he has excellent shoulders, strong legs and well bodied. In good coat and condition. Level topline on the move. Nicely muscled quarters. Moved steadily and soundly.
Res
Titovets & Eremin MULTI CH DELONGSTAR DIAMOND DREAM RL6-EX
VHC
Moult & Savory ACANUCK SOUL REBEL OF CROFTWELL
Minor Puppy Dog (no entries)
Puppy Dog (4 entries)
All were at different stages of development.
1st
Ward MELANITTA PALMATA
Easy winner here. He has good head, correct ear placement and length to neck. Good shoulder construction. Nicely bodied for age and well muscled. Moved with precision and drive for one so young. Pleased to award him BP.
2nd
Powley & Fincham DANEHAVEN RALPH
He has a balanced head with good eye. Has depth to chest ample coat which was in good condition. Appeared to be short on front legs made his outline uneven.
3rd
Sneddon EDINBARNET GRAMPIAN BLAZE
He has a good neck and shoulders. At this time, he lacked substance throughout for a male and needed more body. Very immature. Moved ok.
Res
Johnson TARNLAIKERS RED HEFIN
Junior Dog (15 entries)
1st
Newson TIVALAKE LET'S MISBEHAVE JW
Good head and length of neck leading to well placed shoulders and straight front. Ample depth to chest. Stood on well boned legs and tight feet. Has well muscled quarters which used to his advantage on the move.
2nd
Ward MELANITTA PALMATA
3rd
Macleod CAMUSMOR AMORIS
Going through the 'teenage' stage. Lots to like about this young man, he has good head proportions, correct front & rear angulation and depth to chest. Nicely bodied. Stood on tight feet and has plenty of bone. Moved well when settled.
Res
Akehurst RIPPLERUSH AVERBODE
VHC
Powley & Fincham DANEHAVEN RALPH
Yearling Dog (10 entries)
Post Graduate Dog (13 entries)
1st
Thain LORNFORD PINTAIL'N TUX
Good head & length of neck leading into well placed shoulders. Ample depth to chest and length to loin. Carried his tail correctly when moving. Moved with ease on the final run.
2nd
Burgess CAMUSMOR KING ROB
Pushed 1 hard. Balanced head with kind eye and length to neck into well placed shoulders. Deep chested. Has well muscled quarters. Just felt 1 gave that extra on the move.
3rd
Steer DANEHAVEN ROSCOE
Mature lad, good head shape leading to strong neck. Nicely muscled quarters. Moved well.
Res
Collins & Powley DANEHAVEN KOVIK
VHC
Wilson STACEARELLA NIMBUS OVER GLENTILT
Limit Dog (15 entries, 3 absent)
1st
Macleod & Hussey CAMUSMOR STARGAZER JW
Last time I judged I awarded him Res CC and my opinion hasn't changed. Upstanding mature male in super coat and condition. Masculine head with correct ear set. Strong neck leading to good shoulders with depth to chest. Excellent front & rear angulation. Well muscled quarters with correct bend of stifle. Moved with drive. CC his 3rd & BOB. Delighted to see him shortlisted in the Group – Many congratulations.
2nd
Hipkiss ERIKACHEN O'RUADH FOR DELTANDAMBA JW SHCM
Another dog I've done well in the past. Pleasing head with good ear carriage leading into strong neck. Correctly placed shoulders with straight front. Well made hindquarters with correct tail carriage. Moved well.
3rd
Wright ERIKACHEN DAITHI OF WRIGHTPAW JW SHCM
Litter brother of 2 – much the same applies here. Masculine head with muscled neck. Deep chested and well sprung ribs. Good muscle tone. Felt that 1 & 2 drove out better.
Res
Steer DANEHAVEN ROSCOE
VHC
Davidsson AGILDES SCOTCH OF DIXTON
Open Dog (13 entries)
Special Working Gundog Dog (5 entries)
Good Citizen Dog Scheme Dog (9 entries)
Veteran Bitch (11 entries)
Minor Puppy Bitch (no entries)
Puppy Bitch (5 entries, 2 absent)
Once again all were at different stages of development and will change places throughout the year.
1st
Burgess MELANITTA SINAMAY
Litter sister of BP. Most mature of the three – good head, neck & eye with lay back of shoulder. She's at the top end in height but has a balanced outline. Used her muscled quarters on the move.
2nd
Moult & Savory CROFTWELL TICKETY BOO
Like this girl – just felt this show came too soon. Lovely head & eye and correct ear set. Good shoulders. Body developing nicely & she is well put together. Moved well, will watch her development.
3rd
Ormes & Halpin DANEHAVEN OTTERTAIL
Very fine throughout & would like more of her. She stood on tight feet and had good length to neck. Moved OK.
Junior Bitch (12 entries)
Yearling Bitch (15 entries)
Post Graduate Bitch (15 entries, 2 absent)
Limit Bitch (18 entries, 3 absent)
Open Bitch (14 entries, 2 absent)
Special Working Gundog Bitch (4 entries)
Good Citizen Dog Scheme Bitch (14 entries, 1 absent)
Stakes/Variety classes
AOV Retriever (Working Gundogs) Dog (24 entries, 9 absent)
Judge: Mr David Hutchison (Waverton)
YKC Gundog Stakes Dog or Bitch
Judge: Mrs Jill Peak (Bayard)