Windsor

Sunday 1st July 2018
Judge: Mrs Yvonne Burchell (Tivalake)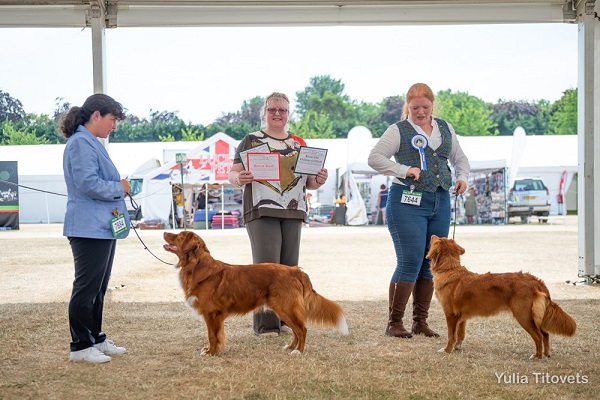 In my opinion, the most prestigious show of the Championship calendar. What an honour to be asked to give my first set of CCs here and on Canada day no less, the original home of the breed. My grateful thanks go to the committee for the invitation and what a joy it was to work within such a professional operation. I was lucky to have two stewards who worked with total efficiency. I was pleased with the overall quality that I saw today, and whilst varying types, some really good dogs are emerging.
Veteran Dog or Bitch (4 entries, 1 absent)
1st
Palfrey FLUSHPOINT WHATA ACCIDENT FOR MELANITTA (IMP SWE)
Very nice 8 year old bitch of good proportions. She has a sweet face with correct eye blending with coat colour. Ears set back and mostly held well. Neck well set on although topline could be stronger at times. Adequate bone and neat feet. Moved steadily. BV
2nd
Ward MELANITTA FIREBLADE
Another 8 year old, this time a male. Head proportions correct, but would prefer slightly more breadth across the skull. Nice dark eye of correct shape. Straight front with adequate bone and level topline. Preferred 1s overall proportions.
3rd
Baker ERIKACHEN AONGHUS
Liked the head on this 9 year old boy, an attractive type. Had a lot of bone and good feet, but just slightly too long in body. Moved very well.
Minor Puppy Dog (3 entries, 1 absent)
1st
Vaughan KATIMBA MALVASIA OF VALSANNRA
The first of two youngsters where similar remarks will apply. I felt this boy just had the edge over his brother today with his more co-ordinated movement. Eyes beginning to darken, large ears. He is not quite level in topline at the moment but has neat, round feet. Has plenty of time to mature up.
2nd
Savory KATIMBA MONTEPULCIANO
This boy appeared to have better bone than his brother and held his topline. Straighter in upper arm at present. Handled well, but still very loose in movement.
Puppy Dog (6 entries, 2 absent)
1st
Adshead AFONBACH WINTER IS COMING
Well grown dog, nice type with strong bone. Liked his head shape, eyes and ears. Eye colour is blending with coat already. Chest is broadening and deepening and well held top line. Profuse coat, neat, round feet. Slightly short in upper arm which contributed to some high front movement at times.
2nd
Akehurst RIPPLERUSH AVERBODE
Another nice in type. Head needs to broaden, but otherwise good, with a kind eye that are darkening and of correct shape. Well set triangular ears and lovely straight front with neat feet. Tended to stand a little high in rear, but hopefully this will even out as he grows and matures. Moved ok.
3rd
Vaughan KATIMBA MALVASIA OF VALSANNRA
Res
Savory KATIMBA MONTEPULCIANO
Junior Dog (3 entries)
1st
Johnson STELLENBOSCH ALAMEDA OF TARNLAIKERS (AI)
Nice type of Toller, attractive head with eyes blending, slightly larger ear, set well back. Longer body type but within standard. Good bone, tight, round feet. Good angulation fore and aft and the best mover in this class when settled.
2nd
Foster-Brown STELLENBOSCH TIBERON (AI)
Head not as broad as his class winning brother, but he has time to mature. Straight front columns, neat feet. Level top line held throughout.
3rd
Adshead AFONBACH WINTER IS COMING
Yearling Dog (no entries)
Post Graduate Dog (2 entries)
1st
Collins & Powley DANEHAVEN KOVIK
Dark eyed boy with matching pigment. He has straight front legs that are well boned and neat feet. Mostly naturally stands square showing decent angulation. Well set on neck in to level topline. Tight elbows. Moved with a spring in his step.
2nd
Candy DECOYMANS PIPER MEGREZ
Smaller and longer type who tends to stand a little uneven. Dark pigment faded on his nose but visible around eyes. Well laid back shoulders. Good bone with sloping patterns. Moved ok.
Limit Dog (6 entries)
1st
Wright ERIKACHEN DAITHI OF WRIGHTPAW JW SHCM
A dog I have admired for quite a time, but the first time I have had the opportunity to judge. Mature boy who makes a stunning outline standing. Love his really well proportioned head and length of muzzle with well held ears. Eyes blend with his very dark coat. Stands on good bone and neat feet with well set on neck in to level topline. Short coupled and strong in loin. Like his length of body to length of leg proportions, and in profile he really looks the part. Moved very steadily today in his class to beat one of his brothers, but was not quite as reliable going away in the challenge. RCC
2nd
Gibson ERIKACHEN CONLAOCH DEARG
Brother to the winner and very similar remarks apply. This boy is finer all over but still has lovely proportions and angulation. Head not as broad but correct, straight front legs, tight feet and so well muscled.
3rd
Harding & Whitehill GLENDERMACKI FOX CRAGG AT BRIZEWOOD
Another good type who makes a nice outline with level topline. Broad head with well carried ears and correct eye. Straight front with good bone and tidy feet. Well muscled and in good condition carrying a lot of coat.
Res
Fuard TOLLELKIN BAY OF ICE
VHC
Davies KATMISTSKY'S SOUL DREAM RL6-EX
Open Dog (5 entries)
1st
Strevens SH CH ERIKACHEN CONAIRE AT TOLLISTY JW SHCM
Litter brother to 1 and 2 in Limit. Such an eye catching boy who never fails to grab attention. Broad skull with good eye shape and colour. Correct ear set and size. Strong neck in to well laid back shoulders. Stands on the best straight front with arched and very neat round feet. Good amount of bone. Has the angulation front and rear, but doesnít always put his back legs in the correct place to show it off. Is deep through the chest and strong in loin. A classy dog who is just in his prime. He moved with a jaunty attitude and worked hard to beat his brother to the CC.
2nd
Gibson ERIKACHEN CONLAOCH DEARG
3rd
Titovets & Eremin MACDREAMS TRENT FROM CASHEL VALE JW RL3 (IMP NLD)
Smaller type, younger than first two and less mature. Neat head, would expect eye to darken further to better blend with coat. Bone good for size, stands on straight front legs with neat feet. Would like a little more breadth all through, but this may come with maturity. Correct angulation and moves with a spring in his step.
Res
Dee MELANITTA CARELINUS
VHC
Ward MELANITTA FIREBLADE
Good Citizen Dog Scheme Dog or Bitch (4 entries, 1 absent)
1st
Fuard TOLLELKIN BAY OF ICE
Reserve in a very strong Limit class. Broad head with good eye shape and colour with well held ears, sporting dark pigment on nose, eye rims and flews. Stands very square and has a well angulated front and rear. Masculine all over with good body and muscle, moved out well. BGC
2nd
Buckingham CATCH FIRST SVEA GARONERA (IMP CZE)
Young bitch who was later VHC in Junior. A finer type and quite immature as still a youngster. Head proportions correct, with some more breadth to come. Sometimes can stand straight in front, but does also stand lazily and not showing herself to her best. Topline needs to strengthen which will hopefully develop with age and maturity. Moved ok when got going.
3rd
Candy DECOYMANS PIPER MEGREZ
Special Beginner Dog or Bitch (6 entries)
1st
Johnson STELLENBOSCH ALAMEDA OF TARNLAIKERS (AI)
2nd
Yates MELANITTA MILK AND HONEY RL2
Two similar girls here, both of good type. Sweet bitch with pretty expression framed by well held ears. Eye shape and colour correct. Decent bone but would prefer straighter front. Well held topline and moved with good stride.
3rd
Elkin TOLLELKIN WATER DANCER
Pretty head with attractive expression and blending eye colour. Good ear set, shape and carriage. Straight front, good angulation and lovely outline. Stands squarely and is well muscled. Lovely footfall on movement. Both girls just need a little more maturity, be patient. Well handled.
Res
Fuard TOLLELKIN BAY OF ICE
VHC
Palfrey FOXDOWN BERTIE ALLSORTS SHCM
Minor Puppy Bitch (1 entry)
1st
Rice CHAMAREL SNOWBIRD AT TIAMARIA
Dark pigmented bitch, quite slight in stature, but plenty of time for ribcage to spring. Correct ear set and size. Level topline and neat feet. Coat is coming through. Moved fairly neatly but a little loose in front at this stage.
Puppy Bitch (4 entries)
1st
Powley DANEHAVEN JEMSEG
Best overall proportions and angulation in the class. Sweet head but would prefer slightly longer muzzle. Eyes blending well. Straight front and bone, in proportion to size for a bitch. Held a level topline, neat feet. Movement won her BP
2nd
Mathisen DANEHAVEN HOPE
Feminine, dark pigmented girl who was slightly taller than 1. Prefer a bit more bone for her size. Lovely straight front and level topline. Could be a bit of a fidgit, but moved so well for a puppy.
3rd
Adshead AFONBACH DANCE WITH DRAGONS
Head proportions good and a nice type, but larger than the previous 2. Eyes bending with coat are a correct shape and ears placed well. She is well off for bone, but tends to stand lazily in front. Not quite feminine enough for me, but will be interesting to see how she develops.
Res
Rice CHAMAREL SNOWBIRD AT TIAMARIA
Junior Bitch (8 entries)
A strong class of young bitches I felt, which must be good news for the future.
1st
Davies CATCH FIRST YLVA GARONERA (IMP CZE)
Looked just right for a junior and very together. Caught my eye straight away. Pretty head with darkening eyes. Neck well set on with good layback in to level topline. Well sprung ribs for age and good width. Lovely proportions overall and simply understated. Needs to mature with time, but felt it was all there. Showed the jaunty attitude when moving.
2nd
Watton TASARLA MOON RIVER
Similar proportions and close up to 1, eye catching in profile. Eyes still need to darken, attractive head, ears set well back. Good neck in to level topline. Ok for bone and moved with a spring in her step.
3rd
Rice TOLLERICE DANEYKO
Another, similar in make and shape to first 2. Neat head, pretty and alert with well held ears. Eyes darkening, good neck and ribs beginning to spring. Level topline held throughout. Feet not as round. Moved steadily.
Res
Foster-Brown STELLENBOSCH SAUSAULITO (AI)
VHC
Buckingham CATCH FIRST SVEA GARONERA (IMP CZE)
Yearling Bitch (9 entries)
Post Graduate Bitch (5 entries, 3 absent)
1st
Powley BE FIRST CARDHU GARONERA FOR DANEHAVEN (IMP CZE)
Liked her head of correct proportions, framed by well set back ears. Eye shape correct and blend well. Straight front and stood very square. Correct length of neck and well set on leading to level topline. Moved ok.
2nd
Favre-Whitmore THINK WONDERFUL THOUGHTS
Slightly smaller and longer in body than 1. Sweet face, eyes appeared a little round but blended well with coat. Ears set back, but of the larger style. Well bent stifle. Movement could be more accurate when going away.
Limit Bitch (8 entries, 2 absent)
1st
Adshead DANEHAVEN VERMILION FOR AFONBACH
Pretty, feminine head with correct proportions. Ears of good shape and size, set back and held well. Neck well set on, nice angulation, fairly well muscled and neat feet. Coat changing and not the best, but forgiven. Nothing flashy about her, but looks good in profile with secure top line. Mature with good spring of rib and moved with drive in the heat. Felt she was pretty honest all through. Pleased to award her CC
2nd
Macleod CAMUSMOR LIKA STAR
Similar type to 1, also mature but not as confident looking and I feel she didnít show her attributes to her best ability. Correct head with almond eye that blends with coat colouring. Ears set back and high, framing the face nicely. Good bone but feet could be tighter. Stands square, nice spring to ribcage.
3rd
Elkin TOLLELKIN WATER DANCER
Res
Watton TASARLA RED MAPLE
VHC
Carnovale KYMIN ORANGE BLOSSOM OF RHEE
Open Bitch (4 entries)
1st
Black SEAHAVEN PARISH BELL
Mature bitch with good spring of rib and width between front legs. Good layback, upper arm and stifle, but she sometimes did her best to try and disguise this when standing. Well proportioned head with almond eye. Ears well set, displaying correct shape and size. Adequate bone with round feet. Another one who isn't flashy but has it all going on. Just lost out for me in the end on her lack of showiness. RCC
2nd
Gibson ERIKACHEN SAOIRSE DEARG
3rd
Gibson ERIKACHEN ORLAITH DEARG
Res YB. Stands squarely with level topline, more immature than her sister, but shows promise. Sweet face with the larger type ears. Neck well set on with good shoulder placement. Moved freely.
Res
Ward MELANITTA MORNING GLORY