National Gundog Association

Sunday 5th August 2018
Judge: Mrs Carol Macleod (Camusmor)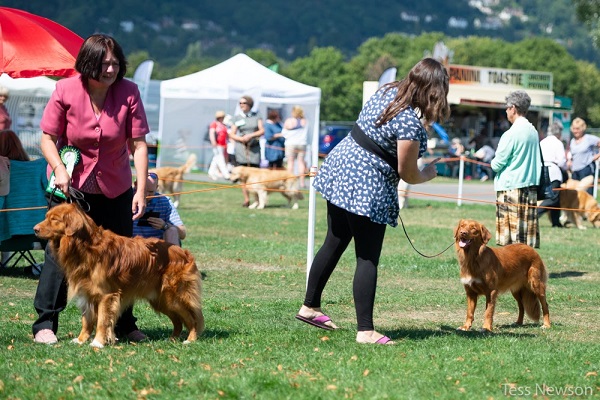 Thank you for the lovely entry. I feel it was a shame it was so hot which affected many on the day. We did check indoors but that was even worse! Many lovely exhibits unplaced so thank you again.
Veteran Dog (4 entries, 2 absent)
1st
Ward FLUSHPOINT WHATA ARISTOCRAT AT MELANITTA (IMP SWE)
Dog I have liked before. Compact shape with lovely head and expression. Lovely front and rear quarters, good depth of chest and moved well.
2nd
Powley SH CH DANEHAVEN DETROIT
Longer cast than 1 and carrying a little extra body today which unfortunately was evident on the move. Good overall shape and pleasing head and expression.
Puppy Dog (11 entries, 2 absent)
Junior Dog (12 entries, 2 absent)
Special Beginner Dog (6 entries, 1 absent)
Graduate Dog (5 entries, 1 absent)
Post Graduate Dog (2 entries)
Limit Dog (5 entries, 1 absent)
1st
Powley DANEHAVEN TUNULIC
Dog in excellent coat well matured lovely front angulation, good depth of body. Classic head, good width of thigh. Moved well.
2nd
DISQUALIFIED
More compact than 1 and not the front angulation, however lovely angulation at the rear. Head and expression very typical of the breed.
3rd
Dee MELANITTA CARELINUS
Res
Davies KATMISTSKY'S SOUL DREAM RL6-EX
Open Dog (11 entries)
Good Citizen Dog Scheme Dog (1 entry)
1st
Newson TIVALAKE LET'S MISBEHAVE
Nice youngster needs time. Unfortunately met some nice dogs earlier in the day. Lovely head and expression, moves well.
Veteran Bitch (3 entries)
1st
Palfrey FLUSHPOINT WHATA ACCIDENT FOR MELANITTA (IMP SWE)
A bitch that for me has really come of age. She is looking better than ever. Lovely feminine outline good head and expression, correct angulation front and rear. Moved well. RCC & B Vet.
2nd
Ward MELANITTA MORNING GLORY
Another bitch I have liked before. Slightly longer in back than 1 so rangier altogether. Lovely head and eye. Good angulation front and rear. Moves well.
3rd
Powley DANEHAVEN RED ROCK
Puppy Bitch (7 entries, 2 absent)
Junior Bitch (9 entries, 3 absent)
Special Beginner Bitch (8 entries, 1 absent)
Graduate Bitch (4 entries, 1 absent)
Post Graduate Bitch (9 entries)
Limit Bitch (8 entries)
Open Bitch (9 entries)
Good Citizen Dog Scheme Bitch (7 entries, 1 absent)