United Retriever

Wednesday 8th August 2018
Judge: Mr Chris Bexon (Oldfield)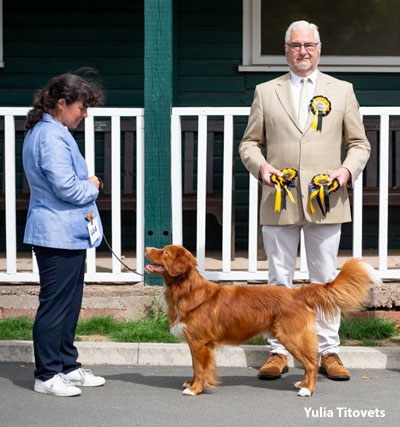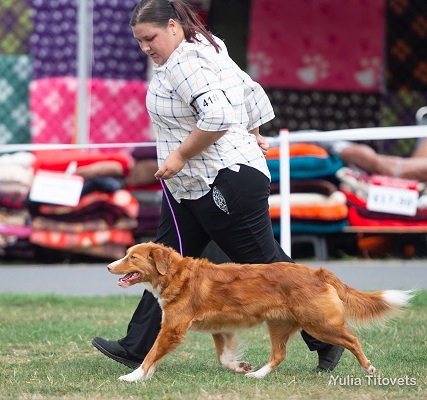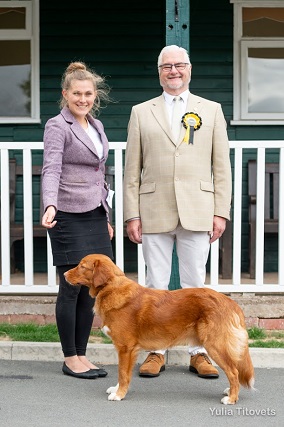 A fairly good entry on paper, 47 Dogs making 68 entries, but with half a dozen absentees. It has been a number of years since I last judged this breed at this level and I didn't realistically expect major changes. I always appreciate the true nature of this breed, the energy, the vibrancy and flare for stylish side gait and with that all important 'breed attitude' which goes along with a working breeds desire to perform its original 'fitness for function' role. I found that the dogs were more even and stronger in type and movement than bitches. There were many superb heads which fit within the standard across the board but some of the bitches were very mixed, with some narrow skulls. There was a diversity of size and shapes with some poor toplines and a fair few with straight upper arms. Not sure how some of the larger and heavier ones perform, when working? Only one bitch was not happy about being examined and the rest of the entry had good temperament. I have to admit at being surprised just how poor some of the handling is, based more on a feeding session than enhancing the look of the exhibit. You have spent a lot of money getting to the show, you have to get the dog at least standing properly to have a real chance in a very competitive sport. Some handlers definitely need to have a rethink! Finally, presentation was very good, the spell of good weather didn't seem to affect coat condition.
Special Working Dog or Bitch (1 entry)
1st
Burchell TIVALAKE JINGLE BELL ROCK SHCM RL2
A mature shaped male, with a rich thick slightly wavy coat, probably bordering at the top end of the height standard but of decent proportions. His head was well balanced, with a fairly broad skull, liked his pleasing expression, dark almond shaped eye and with good ear set. He has a decent outline, with a moderately long neck, good width of chest, straight forelegs, decent ribs and good couplings. He covered the ground well.
Special Show/Working Dog or Bitch (1 entry)
1st
Titovets & Eremin HR CH MACDREAMS TRENT FROM CASHEL VALE JW RL3 (IMP NLD)
Smart, typy male of a really rich colour and condition, he looks workmanlike and really fit for purpose. He has good height to length, with a strong topline and useful tail set and action on the move, enhanced by good feathering and white tip to tail. I liked his head and expression, with clean cheeks, good length of neck, decent angles, just can't stand wrong, he has a good underline, best of legs and feet, with decent hindquarters. He was an excellent mover full of energy and positive breed attitude.
Veteran Dog (1 entry)
Puppy Dog (7 entries, 1 absent)
1st
Newson TIVALAKE LET'S MISBEHAVE
A bit of a roly poly puppy at the moment, but shows great potential, shown in a rich red coat, with good white markings. He is of fairly good size and excellent proportions. I liked his head properties, skull shape, moderate stop, good ear set and slightly wedge-shaped muzzle. He has an alert expression with an eye of decent colour and shape, I thought he had a pleasing shape to his reachy neck, pleasing shoulders. Like a fair few he rises over the croup, positively he is developing a good spring of rib. He has straight forelegs, slightly angled pasterns and tight feet, I really appreciated his good hind angulation and short rear hocks, sure he will continue to develop good muscle tone. Best puppy, sired by the BOB winner. I understand this win gives him his JW subject to KC confirmation. Well done.
2nd
Chapman KATIMBA TREBBIANO AT DKAI
Another very nice youngster, built for speed, but not quite as developed as 1 in certain areas. I liked his outline, he has a decent head shape, moderate stop and good expression, good ears but not quite the length of neck of 1, he has a slight rise in his rear topline which will be uneven growth patterns. He has reasonable heart room and a slight rise in underline. He has good width of chest and straight forelegs of medium bone. He is only moderately angled in rear and not quite the width of second thigh of 1. Moving quite well. Should have a bright future.
3rd
Vaughan KATIMBA MALVASIA OF VALSANNRA
Res
Harrod KATIMBA FORTANA
VHC
Akehurst RIPPLERUSH AVERBODE
Junior Dog (6 entries)
Graduate Dog (4 entries)
1st
La Turner LAUVSTUAS THEO TOYBEE RIVER AT MATALATU (IMP NOR)
At the top of the height standard for me, tallish with a decent outline. He could carry more weight particularly over his loins. His underline was good, and he has a deep brisket. I thought his head was pleasing and he has decent eye colour. I liked his moderately long neck, decent topline and tail set which scored over 2. He moved well using his tail plume to advantage. His hindquarters had good width of second thigh and he is developing good muscle tone. He possesses good medium bone, into neat tight feet. Moving with drive, but steady, head above his back, decent topline and good tail carriage.
2nd
Newson TIVALAKE LET'S MISBEHAVE
3rd
Vaughan KATIMBA MALVASIA OF VALSANNRA
Res
Rimmer & Phillips TIVALAKE YOU'RE THE TOP
Post Graduate Dog (2 entries)
1st
Morgan ERIKACHEN O'RUADH FOR DELTANDAMBA JW SHCM
A three and half year-old compact male with a rich deep red coat, with white markings a little bit profuse on head and whilst he has a really good body shape I would like to see a firmer topline. I liked his lovely wedge-shaped head and pleasing expression, a deep amber eye. He has a moderately long neck, some fore chest, a good width of chest. He has well-proportioned legs, straight and moderately well boned and with tight feet pleasing white socks. He has good hind angulation with perpendicular hocks. He uses his well-feathered tail with white tip well on the move, an excellent mover with drive and reach.
2nd
Rimmer & Phillips TIVALAKE YOU'RE THE TOP
A very immature and raw youngster, typy, that I felt the handler just could not get the best out of today. He clearly has potential, but just needs time. He was of good size and proportions, with a very nice head, but would like a little more masculinity which will develop. He has got decent substance, with good construction fore and aft. His front movement was good, but needs to strengthen in rear. I liked his coat with decent texture and markings. Sorry to say the above handling comments apply.
Limit Dog (5 entries, 2 absent)
1st
Macleod & Hussey CAMUSMOR STARGAZER JW
I liked this excellent moving typy male, very smart and with a different look about him, from most. I thought he was a good size and was built along active lines and proportions. I certainly liked his head and expression, dark and gentle eye, but alert. He has a good length of neck, excellent shoulders, a strong topline and tail set. His forelegs were of good bone and straight. He has a deep chest of good width with a reasonable underline. He has a good spring and deep rib, shortish back and strong loin, he has good rear quarters, built for power. He has minimal white markings which is allowable. He can out move most with a fair degree of style. Res CC.
2nd
Vaughan BORN TO RUN FOR VALSANNRA
For me I think he is a little on the big size, but I have to admit everything blends together, with a degree of static balance. He is a dog of a good colour with some pleasing markings, I really liked his slightly wedged shaped head with decent ears, although he has a small eye they are dark and he has good muzzle length. His neck is moderately long and well-shaped. His topline was held well on the day, he has good legs, but not quite the tight feet of 1. His basic body shape is good. His movement was not quite as strong as 1.
3rd
Moult & Savory ACANUCK SOUL REBEL OF CROFTWELL
Open Dog (3 entries)
1st
Strevens SH CH ERIKACHEN CONAIRE AT TOLLISTY JW SHCM
This pleasing coloured male stands out for type, size and of excellent height to length proportions. He has a good breed specific outline. On the move he is spirited, sound and undeviating in delivering good side gait, he just flows. Style with precision. I think his head is good proportionally, well-shaped, slightly wedged, with moderate stop, good ear shape and decent muzzle length and shape, dark eyes and clean cheeks. He has a good length of neck, into well laid shoulders, a strong level topline and correct tail set and plume carried correctly. He has a pleasing body shape and deep brisket. Shown in tip top condition, good coat and markings. Dog CC and BOB.
2nd
Wakely RIVERWATCHER NUKILIK
Nicely put together slightly heavier in head than 1, but with a nicely rounded skull, good ear size, high set, but with a deep muzzle. He has a shorter but strong neck, correct topline, good body shape, short strong loin, with his legs and feet well under him. He has moderate hind angulation and his colour is bright with decent markings. A steady reliable mover, not quite as outgoing as 1.
3rd
Wakely RIVERWATCHER KAVIKSUK
Veteran Bitch (3 entries)
1st
Morgan REDAURORA COMET'S CHRISTMAS OF DELTANDAMBA
Well put together medium size 7 year old bitch, with a strong body shape, with a very good head and expression, good ear set & eye colour, good construction, clean shoulders, strong deep ribs, and strong loin. She has a deep brisket and a well-rounded rump. She has good legs and feet and with good bend of stifle and width of second thigh. She was the only one to use her tail correctly today in this class. I liked her colour and coat quality. Her movement was good and her strength in hindquarters winning her Best Veteran.
2nd
Ward MELANITTA MORNING GLORY
Nine years young and shown in excellent condition, ultra-feminine, typy, she was slighter in build to 1 and perhaps slightly longer in body proportions. She has a lovely head and expression, good neck and shoulders, although a little uneven in topline, with good spring of ribs, decent loin and good hind angulation. Her movement was extremely good for her age, feet could be a shade tighter.
3rd
Palfrey FLUSHPOINT WHATA ACCIDENT FOR MELANITTA (IMP SWE)
Puppy Bitch (7 entries)
1st
Trickett RIPPLERUSH ORVAL FOR TOLLPEPPER
Very nice youngster, moving really well, of very good shape and proportions, coat thickish of good colour with white socks. She has a pretty head of correct proportions, clean cheeks and has an alert expression from a good eye shape. She has a strong lengthy neck, level top line, good body shape and good tail set. She has correct bone, straight foreleg, lovely feet and a decent underline, with a very good bend of stifle. She moved well with a good driving action.
2nd
Macleod CAMUSMOR SOMNIORUM
Nice puppy, not quite as together as 1 on the move, but adequate. She has good type, was nicely constructed and will continue to develop into a useful edition of the breed. I liked her red colour, she has a very good head and expression, shoulders are quite good and her topline rises a little over her croup, she has very good rear quarters, strong rear pasterns. Everything just blends together.
3rd
Smith TIVALAKE ANYTHING GOES AT TOLLISTY
Res
Hughes EUSANIT GEM STONE AT ABACOT
VHC
Sharpe TIVALAKE CRYSTAL BALL AT ROSETTIA
Junior Bitch (8 entries, 2 absent)
1st
Smith TIVALAKE ANYTHING GOES AT TOLLISTY
Third in the previous class, medium sized and feminine, with a very nice head and expression, she is short coupled with good shoulders, straight forelegs of medium bone, nice feet with pleasing white socks. She is developing nice ribs, medium loin, just needs to develop more in topline and under line. I liked her good bend of stifle. Moved well.
2nd
Hughes EUSANIT GEM STONE AT ABACOT
Another really nice youngster, taller on leg and not the bend of stifle of 1, another good type, sweet head, slightly rounded and slightly wedged shape, darkish eye, decent ears, with a moderate stop. She has a good front and a nice body shape. She moved quite well, giving the impression of being workmanlike.
3rd
Sharpe TIVALAKE CRYSTAL BALL AT ROSETTIA
Res
Rice TIAMARIA MANGO TANGO
VHC
Nevers TIVALAKE EASY TO LOVE
Graduate Bitch (5 entries, 2 absent)
1st
Chapman DECOYMANS THE DREAMWORKER
Perhaps unusual to see a 7-year-old in graduate. Clearly scored on maturity and good type. She has a nice outline, decent rich coat and condition, with a thick coat well formed on the body, with reasonable markings. She has a balanced head of good plains, slightly rounded skull, with a moderate stop, clean cheeks, interesting ears with one ear slightly folded. She has an excellent reach of neck, decent shoulders, slightly wider in front, but with medium bone and nice tight feet. She has a very good body shape and strong loin. Covers the ground well, but a bit narrow when going away.
2nd
Yates MELANITTA MILK AND HONEY RL2
A finer lighter framed bitch, moving really well, when stacked she rises very slightly over croup and slightly down to tail set. She put in an energetic performance with some drive. I liked her head length compared to good muzzle length, her ears are neatly placed, she has a nice back skull into a good length of neck, she has a good length of back and her ribs will develop, she has a short loin and a decent under line. Her legs and feet are good.
3rd
Pashley WAKADUZE WAH PEN DAH SKA
Post Graduate Bitch (6 entries)
1st
Elkin TOLLELKIN WATER DANCER
Smart, medium sized feminine bitch, compact, with a good outline, shape and make. She has a very good head, slightly rounded skull, high ear set, moderate stop and good length of muzzle, nicely shaped throat with strong medium length of neck. She has good width and depth of chest, straight forelegs, slight bend to pasterns and good feet. Pleasing topline, good fore chest and decent body shape, with a good bend of stifle, short rear hocks. She has a very good jacket, thick yet close fitting, pleasing colour and markings. Effortless mover looks like she could go all day. Res Bitch CC.
2nd
McAuliffe TIVALAKE TEMPTATION
Another really good bitch oozes breed type, not too dissimilar from 1 with lots to like. She has a lovely head so nicely balanced with a pleasing expression, decent ear shape and set, she has a strong medium length of neck, good shoulders, upper arm angulation quite good. She has a strong topline, good underline and good bend of stifle. Shown in a thick red coat some white on feet. Moved quite well.
3rd
Yates MELANITTA MILK AND HONEY RL2
Res
Cox ALLIANCE DE LA VIE RED THISTLE IN ICESTORM (IMP NLD)
VHC
Shimwell STACEARELLA ENGLISH ROSE
Limit Bitch (6 entries)
1st
Hughes EUSANIT CUT AND RUN AT ABACOT
Quality, has good breed type of excellent proportions and size, very good outline. She has an excellent head, moderate stop, good eye colour and expression with a decent muzzle, framed by correct ear for size, well set. She has a longish neck, good lay of shoulders, deep brisket, some fore chest, with excellent width of chest, straight forelegs, slightly angled pasterns and reasonable feet. She has a straight topline, held level on the move, coupled with correct head carriage and tail carriage and text book side gait, showing good reach and strong hindquarters. Shown in good textured coat excellent presentation. Bitch CC, later Best Opposite Sex and Reserve Best of Breed.
2nd
Newson TIVALAKE MORE THAN WISHES
This girl is a lovely Retriever from any angle, a super type, with a lovely head and dark eye, good neck, shoulders, good depth of chest but perhaps lacking a little in width of chest compared to 1. Excellent body shape, good construction, underline, excellent bone and feet, just stands so naturally, shown in good coat with white socks. A good mover A1.
3rd
Moult & Savory EUSANIT NAUGHTY BUT NICE FOR CROFTWELL JW
Res
Ward MELANITTA HEALSTETHER
VHC
Shimwell STACEARELLA ENGLISH ROSE
Open Bitch (3 entries)
1st
Hughes EUSANIT CUT AND RUN AT ABACOT
2nd
Macleod CAMUSMOR LIKA STAR
A pleasing headed bitch with super expression, nicely constructed, but much longer in body than 1, she had a good reach of neck, well-shaped, decent width of chest, with straight forelegs of medium bone. She has a long rib cage and is short coupled. She has good width of second thigh, sweeping hindquarters, a good tail set and carriage. Looks good in profile, free and easy mover. Shown in good coat, not a lot of white markings, but a good texture and length to coat.
3rd
Shimwell STACEARELLA ENGLISH ROSE