National Gundog Association

Sunday 4th August 2019
Judge: Mrs Sarah Sevastopulo (Oldholbans)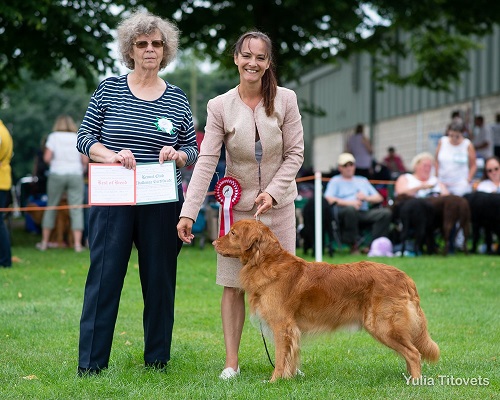 Veteran Dog (3 entries, 1 absent)
1st
Burchell TIVALAKE JINGLE BELL ROCK SHCM RL2
Such a superb example of a Toller, wonderful breed type and balance. He has only got better with age. Correct wedge shaped head and well carried ears, super overall outline with well laid shoulders, level topline and well carried tail. Good depth of chest, well sprung ribs and super rear angulation. In excellent coat and condition and moved so soundly with reach and drive carrying his head almost level with topline as a Toller should. A real showman, presented and handled to perfection. CC, BOB & BV.
2nd
Palfrey FOXDOWN BERTIE ALLSORTS SHCM
Nice boy in good condition but changing his coat. Well made all through and super jaunty mover.
Puppy Dog (2 entries)
1st
Westwood EUSANIT PROPER JOB
Lives up to his name. Loved this young male. Excellent red coat, super head, construction and overall quality. True mover with a real jaunty action. Pleased to give him best puppy.
2nd
Rogers EUSANIT PEAKY BLINDER
Brother of above but not so developed. Nice head coming, moderate angulation, needs to grow on. Sound mover.
Junior Dog (2 entries)
Special Beginner Dog (2 entries)
1st
Bassil TIVALAKE MY LUCKY STAR
Liked this boy for his head type, size and construction. Correct topline and tail carriage, correct angulation and sound mover. Maturing nicely. Coat changing. Best Sp B.
2nd
Chapman KATIMBA TREBBIANO AT DKAI
Pleasing head. Not the shape or construction of winner. A bit long for height. In good coat and condition. Good topline and tail carriage, sound mover.
Graduate Dog (3 entries)
Post Graduate Dog (7 entries, 1 absent)
Limit Dog (6 entries, 1 absent)
Open Dog (6 entries)
Good Citizen Dog Scheme Dog (5 entries, 2 absent)
Veteran Bitch (3 entries)
Puppy Bitch (3 entries)
Junior Bitch (6 entries)
Special Beginner Bitch (4 entries)
Graduate Bitch (9 entries, 1 absent)
Post Graduate Bitch (8 entries, 1 absent)
Limit Bitch (6 entries, 1 absent)
Open Bitch (4 entries)
Good Citizen Dog Scheme Bitch (2 entries)
Stakes/Variety classes
AV Gundog Brace Stakes Dog or Bitch (32 entries, 19 absent)
Judge: Mr G Talbot
AV Gundog Breeders Dog or Bitch (6 entries, 3 absent)
Judge: Mr G Talbot
| | |
| --- | --- |
| 1st | Anstead RIVERWATCHER |
| 2nd | Westwood EUSANIT |
JHA Handling 12-16 Dog or Bitch
Judge: Claire Lewis
Champion Stakes Dog (18 entries)
Judge: Mrs Pat Butler-Holley (Shandwick)
YKC Handling 12-17 Dog or Bitch (11 entries, 6 absent)
Judge: Miss Nicola Sturrock