United Retriever

Wednesday 7th August 2019
Judge: Mr Jeff Horswell (Drakesleat)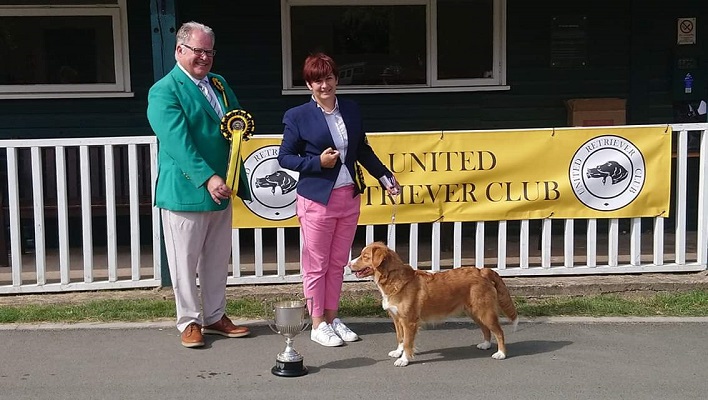 This was to be Babs Harding's appointment, and I am sure everyone sends her their best wishes. I must make particular comment about the great sportsmanship in the breed, great to see, clearly everyone enjoyed their day. I think movement is very good, as is presentation and conditioning – a few too thin and a few more too heavy. What is rather varied is type. All had good bites.
Special Working Dog or Bitch (1 entry)
1st
Burchell TIVALAKE JINGLE BELL ROCK SHCM RL2
V easy moving 8 yrs d. Masc head, medium stop. Well set eyes. Moderate neck. Well laid shoulder. Could have more fill of chest. Well ribbed. Good rear. Could be firmer in topline and use tail more.
Special Show/Working Dog or Bitch (no entries)
Veteran Dog (3 entries)
Puppy Dog (2 entries)
1st
Westwood EUSANIT PROPER JOB
Really good pup, ideal proportions, he just needs to develop in chest and body. Masc head. Good eye and expression. Lengthy neck. Well laid shoulder. Level topline. Good turn of stifle with low hocks.
2nd
Rogers EUSANIT PEAKY BLINDER
Masc d who could carry less weight. Quite a good head. Medium neck. He needs more angulation front and rear. Accurate mover out and back.
Junior Dog (4 entries, 1 absent)
1st
Westwood EUSANIT PROPER JOB
2nd
Ward MELANITTA PALMATA
He has a good outline, just a little narrower than ideal in body at this stage. Well balanced head. Liked his ears. Enough neck. Shoulders are ok. Can firm in pastern. Level topline. Liked his hind angulation. Moved v well.
3rd
Rogers EUSANIT PEAKY BLINDER
Graduate Dog (5 entries)
1st
Adshead AFONBACH WINTER IS COMING JW
Liked him v much. Good outline and proportions, everything fits together well. Well balanced head, well placed eyes. Enough neck. Quite well laid shoulders. Well filled chest. Good length of ribbing. Short loin. Well bent stifle. Can turn his hocks stood, but ok on move. Really good front action. RCC
2nd
Westwood EUSANIT PROPER JOB
3rd
Ward MELANITTA PALMATA
Post Graduate Dog (6 entries)
A couple in this class were rather thin.
Limit Dog (8 entries, 2 absent)
This was quite an even class.
Open Dog (5 entries)
Veteran Bitch (4 entries)
Puppy Bitch (2 entries)
1st
Golding KYMIN VA VA VOOM AVEC WHENOVA
Promising pup who won class on her easier movement. Fem head. Good eye and expression. Correct length of neck into well laid shoulders. Chest to elbow. Well ribbed back and a firm loin. Holds a level topline. Enough hind angulation. Accurate on move. She really is a lovely girl and took RCC and BP.
2nd
Westwood EUSANIT HOT TOTTY
Liked her shape. She has a v good head. Enough neck. Could have a better shoulder. Well ribbed. Can be slack in topline. Low hocks.
Junior Bitch (6 entries, 1 absent)
Graduate Bitch (9 entries, 2 absent)
Post Graduate Bitch (4 entries, 1 absent)
Limit Bitch (9 entries, 1 absent)
Open Bitch (8 entries)