Windsor

Saturday 29th June 2019
Judge: Mr Richard Morris (Lascoed)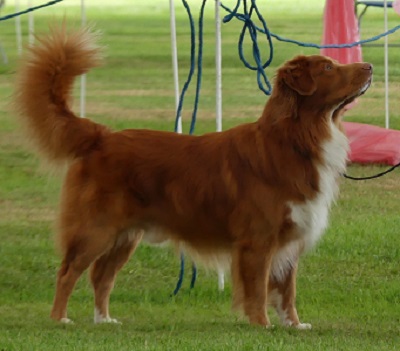 A quality entry especially in the higher classes so pleasing to see standards rising in depth across the breed. I thank both my stewards for their steadfast duty in the heat and exhibitors for bearing with the weather. I tried to keep moving to the minimum and thank you all for the lovely supportive entry on my first appointment at this level in Tollers. I hope you all enjoyed your day as much as I did.
Veteran Dog or Bitch (6 entries)
1st
Burchell TIVALAKE JINGLE BELL ROCK SHCM RL2
Eight and a half years old, a grand veteran pleasing for type, size and breed outline, well boned, pasterns still strong and feet compact and firmly padded. Well sprung ribcage firm across the loin presented in first class muscled condition and dense well feathered and textured coat. His typical head and expression are as balanced and delightful as ever and I was pleased to award him BV. A lovely breed specimen.
2nd
Palfrey FLUSHPOINT WHATA ACCIDENT FOR MELANITTA SHCM (IMP SWE)
Nine years eight months, another exhibit in stunningly fit well muscled condition for her years, medium sized, compact and powerful just as the standard reads. A neatly made bitch well knitted together, correct ear set and carriage, eye set shape and colour adding to her friendly expression, well sprung ribcage, good depth of brisket and strong across the loins. A very well balanced bitch moving soundly and energetically presented in excellent dense well textured coat and feathered flagged tail with white tip. Received extra credit as a veteran being in such excellent coat and condition to deservedly take the Reserve Bitch CC in the challenge.
3rd
Andrews ERIKACHEN CAOIMHIN FOR AFTONMARSH
Seven and three quarter years old, rather longer cast than those above but another veteran carrying a pleasingly dense water resistant coat which lies really well and in such firm muscled condition, white chested and darker coloured than the winners. Fully muscled hindquarters a sound mover with plenty of scope when in action and excels in correct tapering muzzle and broad skull correctly proportioned with tight lips.
Res
Fielder PLAYING THE FIELDER AT CRETSHENGAN
VHC
Powley DANEHAVEN TUNULIC
Minor Puppy Dog (no entries)
Puppy Dog (5 entries, 1 absent)
1st
Westwood EUSANIT PROPER JOB
Ten and half months old sired by BOB winner I now see passing on his substance clearly, an excellent breed type lovely outline to this youngster supported on the best of strong bone and well padded feet, very good topline for his age and particularly strong across the loins. Good depth of brisket with well sprung ribcage and slight tuck up coat lying close and well textured. White feet nicely flagged tipped tail, the bitch puppy winner, his litter sister, had for me had too much foreleg white on show which decided best puppy, a very sound mover fore and aft with tail well flagged driving from well muscled hindquarters, BP.
2nd
Kettle-White, Clifton & Stevens WAKADUZE WAZISINOTA
Ten and a half months, same day born exactly as the winner, friendly alert expression ears appearing rather large at present until head grows on but it remains well proportioned with tight fitting lips, presented in lovely full coat lying well but not quite carrying the body finish of the winner today. More scope to his outline than the winner could be a tad shorter coupled for me but a sound moving exhibit with well flagged tail and correct level head carriage.
3rd
Andrews & Trickett ASTERLILY TOFINO BY AFTONMARSH
Eleven and a half months, currently I rate his head as his better feature with pleasingly formed muzzle of good length, moderate stop, ears well set and carried pleasing for size, as were eyes well placed and shaped enhancing a breed typical expression. Nicely short coupled but will need time to develop as rather narrow in front at present, well coloured though somewhat long length coat moved impressively in profile.
Res
Grant STACEARELLA TOMAHAWK DRAKE
Junior Dog (6 entries)
1st
Westwood EUSANIT PROPER JOB
2nd
Fincham DANEHAVEN RALPH
Fifteen months old delightful breed type though a touch smaller than the winner, good length and shape of muzzle, alert focused expression would like his head to broaden slightly more ideally for me, lips tight fitting. Very well constructed throughout and essentially sound all round on the move just needs to tighten as well. Ribcage well sprung but would like a tad more daylight underneath which might be assisted by some weight reduction in my humble opinion, dense water resistant coat with white feet and chest on display.
3rd
Ward MELANITTA PALMATA
Thirteen months, pleasing for breed type and outline, lovely slightly wedge shaped head with typical firm topline on show, white tip on well carried tail a sound and steady mover, coat well textured and lying beautifully close.
Res
Anstead RIVERWATCHER KILA
VHC
Andrews & Trickett ASTERLILY TOFINO BY AFTONMARSH
Yearling Dog (4 entries)
1st
Newson TIVALAKE LET'S MISBEHAVE JW
Twenty one months sired by third in Open, typical fairly square outline, well boned with compact medium sized webbed feet like all the dogs from this kennel demonstrating well proportioned heads with the sweetest of friendly expressions. Well coupled and a very sound mover fore and aft with flowing profile action. White feet and tail tip on show coat lying dense and close of correct medium length.
2nd
Chapman KATIMBA TREBBIANO AT DKAI
Nineteen and half months, very similar in head and expression to the winner with similar excellent attributes of super head balance, full nostrils, kind intelligent expression and ears well set and carried. Not quite the winners topline standing or carried on the move also possessing slightly more length of loin but equally had better hindquarter muscling and stronger second thighs than the first dog in my opinion. Darker coloured in coat they did indeed make for a lovely pair of dogs on a close decision.
3rd
Fincham DANEHAVEN RALPH
Res
Ward MELANITTA PALMATA
Post Graduate Dog (9 entries, 1 absent)
1st
Fuard TOLLELKIN BAY OF ICE
Three years nine months sired by BV winner also of grand type, very well angulated throughout with a solid strong front deep brisket and excellent fore-chest despite this he did appear to pound the ground slightly in his fore-ward action on the day with a slight tendency to toe in one leg in front I considered. Another lovely breed typical head and expression, ears medium sized well set and shaped. Good firm topline well sprung ribcage strong bone and outstandingly good medium sized tight well padded webbed feet. Good length of leg to depth of brisket, water repellant coat correctly textured lying well of medium length, white feet. Hindquarters strongly muscled and well turned stifles, an acceptably sound mover.
2nd
Adshead AFONBACH WINTER IS COMING JW
Twenty and a half months, many of the above positive comments would equally apply to this exhibit, lovely square outline and attractive alert expression not quite as lively on the move as the winner but demonstrating sounder action on the day in my opinion. A dense coat with white feet but rather softer in texture than the first dog another presented in excellent solid well bodied and muscled condition. Well constructed overall with firm topline heavily flagged tail carried well on the move.
3rd
Collins & Powley DANEHAVEN KOVIK
Rising three years old, a heavier build than the winners a powerful dog of pleasing type very well knitted together. Excellent bone and tight feet, squarely made and well angulated though ribcage slightly barreled I considered making him appear heavy as did his fullness of well textured water resistant coat. Another lovely truly sound mover with determined drive.
Res
Burgess CAMUSMOR KING ROB
VHC
Parr KYMIN UPSHI KREEK
Limit Dog (4 entries)
1st
Burchell & Scott TIVALAKE MAKE 'EM LAUGH JW
Three and a half years, a typical dog of quality delightful head and expression with good length of muzzle pleasing to find, strong under-jaw and correct stop though tended to fly his ears a bit on the day, wide, full pink nostrils. Coat of correct texture and length lying well, strongly bone, tight, compact, well arched feet, strong hindquarters with good second thigh development. Well sprung ribcage firm across the loins a positive sound mover holding his topline well.
2nd
Palfrey FOXDOWN BERTIE ALLSORTS SHCM
Nine years old, impressed me for his firmness throughout, lovely coat and body condition more scope of outline than the winner at this grand age which I considered had to be rewarded and a lovely flowing profile mover demonstrating plenty of power for his years. Head well proportioned and not weaken with age darker ear colour than the winner ears triangular dropping and set well. Presented in excellent well textured coat strongly boned with typically firm webbed feet, strong across the loins still with well muscled hindquarters.
3rd
Hipkiss ERIKACHEN O'RUADH FOR DELTANDAMBA JW SHCM
Four years eight months old, quite a marked white blaze more than I prefer though a pleasing rich red coat colour which I find most attractive and striking water repellant coat very well textured of correct medium length, dense and lying well. Squarely built correctly proportioned outline, short coupled with slight tuck-up though ribcage somewhat barreled which may have influenced his front movement which I detected as somewhat wider than the winners in my opinion on the day though essentially sound. A most pleasing expression on a very well proportioned slightly wedge shaped head completing an attractive trio who could all change places on another day.
Res
Rice TIAMARIA HARVEST GOLD
Open Dog (7 entries)
1st
Anstead MULTI CH RIVERWATCHER ATKA
Six years eight months old dark red dog with classic wedge shaped masculine head, strong under-jaw, lips tight fitting, correct stop complementary eye colour to coat highly typical with square outline and very solidly constructed. Super straight full front muscular medium length shoulders very well angulated showing plenty of fore-chest, so often lacking in the breed in the past, well feathered white throat, elbows close set and deep in brisket. Well sprung ribcage reaching well back powerful across the loins with excellent hindquarter muscling, deep second thighs hocks correctly set. Super strength of body impressive as he approaches veteran and the best of tight well arched and hard padded webbed feet. Lovely coat texture, length and finish with a super thick based heavily feathered tail carried as was level head in a breed typical manner showing a confident and kind temperament through a powerful gait, CC closely challenged by the bitch but won through for BOB with his superlative condition.
2nd
Wakely RIVERWATCHER KAVIKSUK
Litter brother to winner and needless to say many of the above comments similarly apply if anything I preferred the scope and proportions on this exhibits head to that of the winner as his muzzle impressed me more for length and taper with strong under-jaw, tight fitting lips, though his coat did not lie as close as the winner and was slightly more open in my opinion. Classic breed type of distinct quality good depth of body, correct ribcage and strongly coupled with slight tuck up. Carried his thick white tipped well feathered tail correctly whilst driving in a jaunty manner which was faultlessly positive, a most lovely breed example Reserve CC.
3rd
Strevens SH CH ERIKACHEN CONAIRE AT TOLLISTY JW SHCM SHCEX
Four years eight months, he completed a trio of wonderful dogs of which the breed can be truly proud and which hopefully will encourage quality in depth to flourish in Tollers in the UK. Dark red colour coat lying well and pleasing texture in good bloom with white feet and tail tipped a distinct kennel type from the winners but his qualities complemented those above him in all respects, just would have liked a tad more strength in his muzzle if being personally particular and both the winners had slightly superior muscle tone finish in their hindquarters in my view being similarly constructed as brothers. A dog I have always admired and I am confident the breed will inherit so much of value from him as a sire three beautifully dogs who could all change places on another day.
Res
Parr KYMIN NEPTUNE
VHC
Wakely RIVERWATCHER NUKILIK
Good Citizen Dog Scheme Dog or Bitch (3 entries)
1st
Fuard TOLLELKIN BAY OF ICE
2nd
Andrews ERIKACHEN CAOIMHIN FOR AFTONMARSH
3rd
Yates MELANITTA MILK AND HONEY AVEC TOLLEROLOGY RL2
Two years eight months old, an attractive clean outline, good square balance, coat lying close but in the process of shedding on the day, very well angulated throughout though not a big bitch she slightly lacks the body condition at present to fill her frame. Head rather small as were her eyes but displays a pleasant expression with webbed white feet all round. Good bone and well sprung ribcage and reasonably sound on the move.
Minor Puppy Bitch (no entries)
Puppy Bitch (1 entry)
1st
Westwood EUSANIT HOT TOTTY
Ten and a half months old also sired by the BOB I now see and squarely built with good body condition for her age would prefer coat darker and less fore-leg white but overall excellent breed type and construction with particularly good length and shape of muzzle for a youngster possessing tight fitting lips. Good firm topline, well sprung ribcage nicely coupled with good muscling at the rear. Head balanced at this stage with pleasing eye colour and expression I expect she will tighten on the move with time.
Junior Bitch (5 entries)
1st
Westwood EUSANIT HOT TOTTY
2nd
Johnson TARNLAIKERS PERFECT PINK
Fourteen months old though has a typically slightly wedge shaped she has not the strength in the head of the winner at present and I would prefer a darker eye colour which hopefully will occur with time. Pleasing for overall medium size and breed type good strong bone and compact, tight feet. Ribcage well sprung, good topline a sound moving youngster with a well flagged tail and white feet.
3rd
Moult & Savory CROFTWELL TICKETY BOO
Fourteen months a sweet bitch with much appeal another whose eye colour I would hope to darken pale nose well bodied for her age with good spring of ribcage and pleasing for overall type. Coat lying well and correctly textured, sound moving and squarely presented outline needs time to develop and come on.
Res
Burgess MELANITTA SINAMAY
VHC
Gosnell KATMISTSKY'S ANN AGAIN
Yearling Bitch (7 entries)
1st
Smith TIVALAKE ANYTHING GOES AT TOLLISTY JW
Twenty one months old litter sister to winner of YD, a quality bitch very well angulated throughout, excellent breed type well sprung ribcage and pleasingly coupled firm across the loins a most appealing outline. Head slightly wedge shaped and in proportion but would like it rather stronger overall personally attractive eye colour shape and set complementary to coat colour and displaying an abundant full feathered tail with white feet. A flowing sound mover with correct level head and tail carriage.
2nd
Powley DANEHAVEN JEMSEG
Twenty two months, a paler coloured bitch, attractive eye colour well set and shaped delightful expression full of friendly appeal, head maturing and well balanced excellent strength of bone and well sprung ribcage. Good depth of brisket and nicely coupled solid over the loins with well muscled hindquarters and deep second thighs. A sound flowing mover with tail well feathered and broad at base.
3rd
Johnson TARNLAIKERS PERFECT PINK
Res
Westwood EUSANIT GONNA MAKE YOU A STAR
VHC
Moult & Savory CROFTWELL TICKETY BOO
Post Graduate Bitch (8 entries, 1 absent)
1st
Adshead AFONBACH DANCE WITH DRAGONS JW
Twenty and a half months old litter sister to second in PGD well up to size for a bitch and I really was taken with her well constructed outline striking and clean which draws the eye. Full dense water resistent coat of pleasing length, lie and texture excellent topline strong bone and tight well padded feet. Presented in the best of body condition and for me the best head on show in the class with good length and strength to the proportions, slightly wedge shaped with tight fitting lips. Moved reasonably soundly though I considered less positively behind on the day with white feet and a well feathered tail on display.
2nd
Pashley WAKADUZE WAH PEN DAH SKA
Two years eight months, same sire as second in PD but not carrying the topline of the winner, very strong across the loins and a superior sound flowing mover against the first bitch. Typical head skull broad and slightly rounded an attractive breed expression ribcage rather barreled for me but nicely coupled, strongly bone and stood on firm compact feet. Notably smaller sized than the winner with white tipped well flagged tail.
3rd
Nevers TIVALAKE EASY TO LOVE
Twenty one months litter sister to YB winner, pale nosed, another with well muscled condition, a super sound mover which won her the place, well sprung ribcage and solid across the loins. A well balanced head though I would like it to possess more overall finish and maturity at this stage. Excellent topline coat well textured tail well feathered, feet could be a little firmer for me.
Res
Watton TASARLA MOON RIVER
VHC
Taylor WAKADUZE WIYAKA
Limit Bitch (6 entries)
1st
Newson TIVALAKE MORE THAN WISHES
Five years two months, an excellent type I seemed to favour in the entry, squarely built presented in lovely solid body condition and won the class on her superior positive breed typical movement with true level head and well flagged tail carriage. For me she also displayed the most pleasingly proportioned head and expression in the class alert and friendly head slightly wedge shaped and clean-cut skull broad with moderate stop, lips tight fitting, nostrils full. Very well angulated overall excellent topline and especially good length of ribcage, white feet on show. A classical bitch with much to offer the breed nothing exaggerated highly attractive all round.
2nd
Carnovale KYMIN ORANGE BLOSSOM OF RHEE
Four years three months, one I believe I have favoured in the past and in maturity does not disappoint despite the fact that I did consider her rear movement could have been more positive on the day though she has a most pleasing extended profile action and is solid and well bodied in front. I thought her stronger muscled overall than the winner, white feet and chest on show with excellent water repellent coat of medium length, good density, colour and texture. Well proportioned standing with good spring of ribcage, excellent topline, well coupled with slight tuck up and firm across the loins.
3rd
Hipkiss REDAURORA COMET'S CHRISTMAS OF DELTANDAMBA
Eight and a half years old very much the veteran and not the topline now of the winners with I considered a slightly barreled ribcage brought on probably by age. The sweetest of expressions however with well set shaped and coloured eyes, head still well shaped, skull broad and well moulded coat lying well dense and full. Nicely coupled with strongly muscled hindquarters and tuck up not showing any weakness at the hocks and still able to show some of the youngsters how to move soundly and positively.
Res
Adshead DANEHAVEN VERMILION FOR AFONBACH SHCM
VHC
Watton TASARLA RED MAPLE
Open Bitch (6 entries, 1 absent)
1st
Anstead SH CH/INT SH CH RIVERWATCHER PIKPAKTUK JW
Rising five years old half sister to the dog CC winner I now see and naturally complementary for type and breed balance super quality bitch who pushed her kennel mate all the way in the challenge for BOB where I was splitting hairs on a decision that could have gone either way the dog won for me on his substance and ultimate muscle finish. What a lovely bitch she is sired I see by another great dog of the breed. Her head is full developed and mature lips tight perhaps overall for some a little strong but not for me so good to feel a powerful under-jaw on a classically well proportioned and moulded head with clean-cut skull, lovely confident eager expression. Dark coloured coat full, dense water resistant undercoat lying well of excellent texture and length with fully feathered white tipped tail glowing with sheen and condition head and tail carried breed typically on the move. Excels in topline, ribcage and coupling strength and power on the move with so much reach and drive on display which is where she could have snatched it from the dog. Obviously delighted to have found such a worthy CC winner on the day.
2nd
Westwood MULTI CH EUSANIT APPLE OF ONE'S EYE JW
Six years old and pushed the winner hard but was beginning to shed coat on the day somewhat copiously and this influenced my decision. Another stunning breed example of quality type, super construction, balance and true movement with typical head and tail carriage, white tip on show. Pleasing outline not excessively deep in body as some were in the entry super slightly wedge shaped head and the most attractive and appealing expression presented in tip top solid condition. A most impressive feminine Toller and a great credit to the breed.
3rd
Parr DANEHAVEN PELLY ON KYMIN
Eight years four months old dam of second in LB a magnificent veteran not disgraced in the company of such illustrious winners and well able to hold her own with a beautifully solid straight well angulated front for her age full fore-chest, elbows close, strong across the loins, well ribbed back and correctly sprung. Impressive head qualities still with lovely eye colour shape and set to form an attractive ageless expression, a compact powerful bitch still presented in super coat and condition a wonderful type moving soundly showing the youngsters the way.
Res
Moult & Savory EUSANIT NAUGHTY BUT NICE FOR CROFTWELL JW
VHC
Collins & Powley DANEHAVEN DETROYES
Stakes/Variety classes
The Windsor Open Charity Stakes Dog or Bitch (26 entries)
Judge: Mr Jeff Luscott (Jalus)
The Leonard Pagliero Memorial Champion Stakes Dog or Bitch (18 entries, 13 absent)