Welsh Kennel Club

Sunday 18th August 2019
Judge: Mrs Sally Parr (Kymin)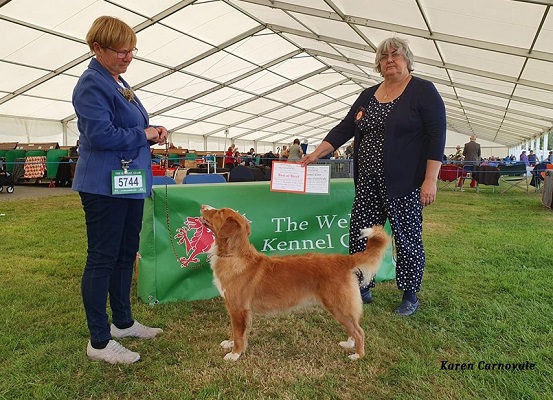 My first time judging at CC level, after nearly 27 years in the breed.
Thanks to my home country, Welsh KC, for inviting me.
I found the 9/10 ratio of height to length much improved, with longer leg/body balance. We need to watch rears as many were very close behind on the move. Dropping coat in late summer is a breed curse, especially in bitches, so I did not consider it in my decisions.
Veteran Dog (4 entries, 1 absent)
Puppy Dog (1 entry, 1 absent)
Junior Dog (3 entries)
Post Graduate Dog (5 entries)
Limit Dog (7 entries)
Open Dog (6 entries)
Veteran Bitch (2 entries)
Puppy Bitch (2 entries)
1st
Mathisen TIGERSTADENS ABSOLUTELY FABULOUS
Both puppies coatless today. Liked winners head and front. Moved well for 10 months, as already together. Well marked. BP.
2nd
Collins & Powley DEVERON DUCHESS OF DANEHAVEN
Kind eye, moved well, but at the raw bum high stage of growth today, so body was uneven. Looks as if she has more to come.
Junior Bitch (5 entries)
Post Graduate Bitch (8 entries, 2 absent)
Limit Bitch (6 entries)
Open Bitch (3 entries)
1st
Moult & Savory EUSANIT NAUGHTY BUT NICE FOR CROFTWELL JW
CC, BOB. Although she had left her coat at home the quality of this bitch is superb. I judged her as a raw junior and awarded her top spot, she has held her promise. She maintains her willing attitude with wagging tail and jaunty action. Excellent construction throughout. Correct head, kind eye, pleased she won her crown today.
2nd
Fielder IR SH CH EUSANIT BEST OF THE BUNCH AT CRETSHENGAN
Similar comments apply, litter sister, but lacked oomph today so did not move as well.
3rd
Black SEAHAVEN PARISH BELL
Classically marked mature bitch. Good angles, lighter eye. Moved OK, would have liked more sparkle.