Three Counties

Sunday 9th June 2019
Judge: Mr Richard Bott (Quensha)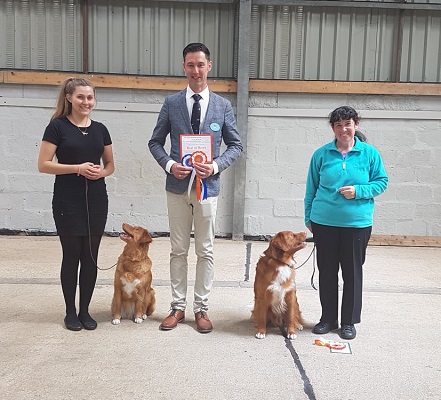 Puppy Dog (4 entries, 1 absent)
1st
Hunt RIVER WISE OF GREAT PLEASURE AT WAKADUZE (IMP BEL)
Good overall proportions on this chap just rising 12 months. He is clean in outline with a masculine head and expressions, ears well set. Good straight front, with a clean reach of neck which led in to well set shoulders. Decent front assembly with a good return of upper and good depth to chest for his age but needs to drop in to his front which he will do with age. Good body proportions with ribs well back. Quarters developing well which he used to advantage on the move. Won this class on movement with that typical gait.
2nd
Rogers EUSANIT PEAKY BLINDER
Masculine in head with the correct wedge shape, pleasing expression with a little bit of mischief about him. Good through the neck, shoulders need to fall back a little. Body well-made for his age. Quarters developing nicely with a decent bend of stifle. Just needs to settle on the move.
3rd
Kettle-White, Clifton & Stevens WAKADUZE WAZISINOTA
Junior Dog (2 entries, 1 absent)
Post Graduate Dog (3 entries)
1st
Copeland CAMUSMOR BRINGMESUNSHINE TO MENSTONIA
Good overall proportions on this chap, clean in outline with a masculine head and expressions, ears well set and a good eye. Good straight front, with a clean reach of neck which led in to well set shoulders. Decent front assembly with a good return of upper arm and good depth to chest. Good body proportions with ribs well back. Quarters developing well which he used to advantage on the move. Good profile action and shown in hard condition.
2nd
Newson TIVALAKE LET'S MISBEHAVE JW
This young chap has a pleasing masculine head and expression. Good through the neck, decent front on him and return of upper arm. Stands on well boned legs and good feet. Body well-made with ribs well back, needs to firm up in topline a shade. Balanced angles fore and aft. Stifles well bent and he has a well set tail. Good jaunty action on the move just needs to find his feet as he was a little untidy behind.
3rd
Wright CAMUSMOR CROWN ROYAL
Open Dog (4 entries)
1st
Strevens SH CH ERIKACHEN CONAIRE AT TOLLISTY JW SHCM SHCEX
Super head piece with a lovely dark eye on this chap. Well made through the neck which led on to a well-angulated front, shoulders well set, a decent return of upper arm. Standing on good legs and neat feet. Good depth to the body, ribs well sprung and loin muscular, level in top line. Quarters well-made and muscled, stifles well bent. Smart on the move with the correct tail carriage. Coat good with correct texture in top condition. Pleased to see him again Best Dog.
2nd
Barker EUSANIT SILVR DREAM MACHINE
Another one I really liked, very young dog, not yet 2 years old and giving a lot away in maturity to the winner. Has really good type about him. Smart dog, clean in outline. Head developing well with well-placed ears. Shoulders well set and a good return of upper arm. Standing on well boned legs and good feet. Needs a bit more depth to forechest but that will come with time. Well-made through the body, ribs well sprung and firm in loin. Quarters well developed with well bent stifles, well-muscled. Moved out well and held his topline well. Close up for RDB.
3rd
Wakely RIVERWATCHER KAVIKSUK
Res
Macleod & Hussey SH CH CAMUSMOR STARGAZER JW
Veteran Dog (2 entries, 1 absent)
1st
Harding & Whitehill GLENDERMACKI FOX CRAGG AT BRIZEWOOD
Pleasing shape on this 8 years old chap. Masculine in head with excellent definition, super in neck which was strong leading on to well set shoulders and overall front assembly. Good through the body, chest deep and ribs well sprung. Strong in loin, excellent quarters. Did enough on the move to take Reserve Best Dog.
Puppy Bitch (1 entry)
1st
Sewell SHORE TO PLEASE AT BREAKERSWELL
A typy puppy but at the growing stage so not as balanced at the moment. Lovely head piece and a good overall shape and good ears. Balanced angles front and rear. Stands on good legs and feet. Body developing well with ribs and loin where you would expect them at this age. Did ok on the move, needs to tidy up in rear action but had plenty of enthusiasm.
Junior Bitch (2 entries)
1st
Johnson TARNLAIKERS PERFECT PINK
13 months old and very promising. Definitely enjoying her day out. She has a lovely feminine head and expression, eye just need to darken a little. Good lay back of shoulder and front assembly. Standing on good legs, would just like a little more length of leg and a tighter front. Body of good proportion with ribs and loin developing well. Quarters well-made with a good bend of stifle. She strode out really well on the move with a jaunty action.
2nd
Sewell SHORE TO PLEASE AT BREAKERSWELL
Post Graduate Bitch (3 entries)
1st
Pashley WAKADUZE WAH PEN DAH SKA
Have done this bitch well before at the club show, so pleased to see how she has developed. Beautiful in head, typical wedge shape, correct breadth and eye shape and correctly placed ears that gave that appealing expression. Strong through the neck leading into well placed shoulder, standing on well boned legs and neat feet. Correct depth of body for her age. Well-developed quarters will well bent stifles. Would have liked a shade more length of leg to complete the picture.
2nd
Trickett RIPPLERUSH ORVAL FOR TOLLPEPPER
Very feminine in head and expression, with good ears and has a pleasing expression. Good through the neck in to well set shoulders. Stands on well boned legs, would have liked tighter in front. Body well made, ribs and loin developing nicely. Quarters well-made with stifles well bent. Good free action on the move.
3rd
Buckingham CATCH FIRST SVEA GARONERA (IMP CZE)
Open Bitch (4 entries)
1st
Newson TIVALAKE MORE THAN WISHES
This young lady presented with a classic outline and just stood out in this class, she won limit under me last time but was not in her best jacket then, today she was in top form. Good size and proportions. Beautiful in head, typical wedge shape, correct breadth and eye shape that gave that appealing expression. Strong through the neck leading into well placed shoulder, standing on well boned legs and neat feet. Correct depth of body, ribs well sprung, strong level top line. Well developed quarters with well bent stifles. Excellent tail carriage. On the move she had good footfall and excelled in profile action. Best Bitch and Best of Breed.
2nd
Johnson SEAHAVEN'S GLORIANA BY TARNLAIKERS
This bitch has a pleasing head and expression of the correct shape and feminine expression. Good reach of neck, correct layback of shoulder. Good overall shape with balanced body proportioned. Correct spring of rib and firm loin. Just a shade too much covering. Quarters well-made with well bent stifles. Moved out well covering the ground.
3rd
Buckingham CATCH FIRST SVEA GARONERA (IMP CZE)
Res
Macleod CAMUSMOR LIKA STAR
Veteran Bitch (1 entry, 1 absent)