National Gundog Association

Sunday 1st August 2021
Judge: Mrs Rachel Bradley (Ruddyduck)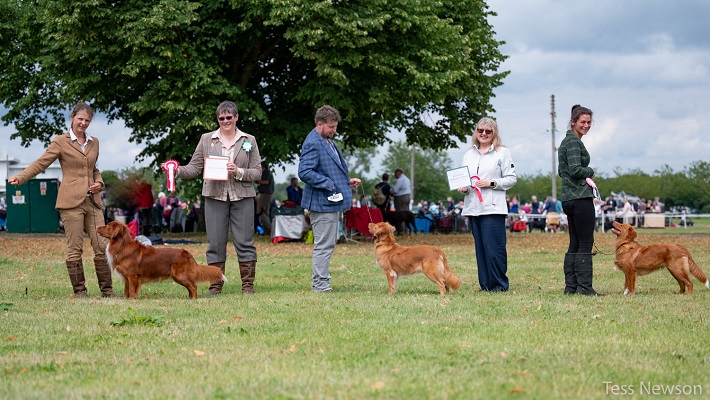 I was very pleased with my entry for this, my first, CC appointment. Thank you to National Gundog Association for their hospitality and to my two stewards who kept the ring moving.
Shoulders are greatly improved, however, breeders do need to pay attention to upper arms. They should be the same length as the shoulder blade with the elbow under the withers enabling the correct forechest and movement.
It was disappointing to see a number of exhibits still carrying some extra Lockdown pounds. As a working breed Tollers should be fit with good muscle tone, enabling them to perform the function they were developed for.
Veteran Dog (5 entries, 1 absent)
1st
Titovets MULTI CH DELONGSTAR DIAMOND DREAM RL6-EX
10 year old male of correct size. Slightly lower in leg but well angulated fore and rear with good return of upper arm and forechest. Correct wedge shaped head with a melting expression. Larger ears but well placed. Well muscled and in excellent condition enabling him to power round the ring.
2nd
Burchell TIVALAKE JINGLE BELL ROCK SHCM RL2
Another "proper" veteran at 10.5 years. These boys really show the longevity of the breed. A larger boy scoring in front assembly although slightly over-angulated at the rear. A different head shape to my winner but still with the correct wedge shape. A kindly expression with a rounder eye. In his summer coat but another lovely mover.
3rd
Wakely RIVERWATCHER NUKILIK
A "mere" youngster at 8.5 years. A larger framed dog all over. Well angulated but showing his age on the move. A larger, heavier head losing some of that Toller expression.
Res
Rice TIAMARIA HARVEST GOLD
Puppy Dog (10 entries)
Interested to note that most of this class were from just 3 litters. They are all at different stages of development moment and it will be interesting to see them interchange places as they grow up.
1st
Elkin TOLLELKIN DREAM HARBOUR
Just 6.5 months and the most together of this promising litter.  Compact male with good layback of shoulder although currently a little over bent in stifle but with some growing to do this may resolve. Pleasing head and expression with correct almond shaped eye, although these need to darken with age. Neat feet and moving well for age.
2nd
O'Reilly TOLLELKIN DREAM LOCH
Litter sibling to 1, a smaller dog and currently a little lower on the leg. Another nice head with almond shaped eye, although larger ears than his brother.
3rd
Fielder CRETSHENGAN TORRAN LOCH (AI)
Another promising prospect who was unlucky to meet 1 and 2. Good compact profile although standing a little bum high at the moment.
Res
Nevers TOLLELKIN DREAM COVE AT SHELDRAKE
VHC
Trueman CRETSHENGAN LAKE ITASCA (AI)
Junior Dog (6 entries)
1st
Rice TOLLERICE EBERLE
Just a year old, coming into his coat and maturing nicely. I especially liked his wedge shaped head with his almond shaped eyes, colour blending with coat, and his ear set. Good construction with well laid back shoulder and return of upper arm. Moving well in profile but still needs to tighten up behind.
2nd
O'Reilly TOLLELKIN DREAM LOCH
3rd
Copeland & Knowles EUSANIT IT'LL BE REET AT MENSTONIA
Presenting a complete picture at 16 months, however, carrying too much weight which affected his movement. Well laid back shoulder but lacking in upper arm and could do with more bend of stifle.
Res
Edwards AFONBACH THE GREAT PRINCE
VHC
Smith & Gough CRETSHENGAN KITCHI LAKE (AI)
Special Beginner Dog (2 entries)
1st
Sewell CLEGANE INFERNO TO BREAKERSWELL
An honest dog just short of his 2nd birthday.  Mature frame and well angulated fore and rear.  Moving out well.
2nd
Bate-Ash EUSANIT HIT THE LIGHTS
On his toes and didn't settle. He wasn't dropping into himself on the move leading to a very short stride and hackney step which drew unwanted attention to his shorter upper arm. Carried his tail straight up in an inverted J rather than the correct inverted C although this may improve as he relaxes.
Novice Dog (4 entries, 1 absent)
1st
Sewell CLEGANE INFERNO TO BREAKERSWELL
2nd
Sevastopulo KYMIN WELSH WIZARD
2 year old male, rather straight both in front and behind and needs to settle into his movement. His expression is marred by a larger stop which will hopefully balance as his head breaks with maturity.
3rd
Adshead AFONBACH RIVER GUARDIAN
A very raw youngster at the gangly stage, will hopefully come back into his angles and movement as he matures into his growth spurt.  Pleasing wedge shaped head.
Graduate Dog (4 entries)
1st
Chapman KATIMBA TREBBIANO AT DKAI
Mature deep red dog, in abundant coat.  Nice to see such a glorious ruff as so many owners strip them out these days. Good layback of shoulder and rear angulation.  Excelled in movement.
2nd
Akehurst RIPPLERUSH AVERBODE
A younger dog still to develop his full coat.  I particularly liked his head with a good balance to his ears.  Good layback of shoulder but straighter behind than the winner.
3rd
Fincham DANEHAVEN RALPH
Thoroughly enjoyed his time in the ring, a very happy mover with typical Toller attitude.  A little lower on the leg.
Res
Adshead AFONBACH RIVER GUARDIAN
Post Graduate Dog (6 entries, 2 absent)
1st
Wright CAMUSMOR CROWN ROYAL
I liked this dog as a youngster and I haven't changed my mind. A cracking example who is maturing into his potential. Very well made, compact example with good angulation front and rear. Correct wedge shaped head with almond eye. Slightly larger ears but placed correctly. He would benefit from a looser lead enabling him to lower his head and drop into himself on the move.
2nd
La Turner LAUVSTUAS THEO TOYBEE RIVER AT MATALATU (IMP NOR)
A very different type to my winner. Lighter framed all over without the forechest of the winner. A little short in upper arm but moves beautifully in profile, just a little close behind.
3rd
Sewell CLEGANE INFERNO TO BREAKERSWELL
Res
Adshead AFONBACH WINTER IS COMING JW
Limit Dog (12 entries)
1st
Ward MELANITTA PALMATA JW
This 3 year old lad caught my eye as he entered the ring. Moderate in every way with a gorgeous silhouette.  Well angulated with good return of upper arm.  Well-proportioned wedge shaped head with almond shaped eye and well placed ears.  He pushed the DCC and BOB winner hard but the maturity of the Open Dog winner won through this time.
2nd
Elkin TOLLELKIN CAIFE AMERICANO
Another super dog in this very strong class. A different type to my winner but also well constructed with good angulation front and rear.  Another good head with kindly expression.
3rd
Newson TIVALAKE LET'S MISBEHAVE JW
A smaller dog than 2nd but you can tell these two are half-siblings as they share so many positive attributes.
Res
Copeland CAMUSMOR BRINGMESUNSHINE TO MENSTONIA
VHC
Fuard TOLLELKIN BAY OF ICE
Open Dog (9 entries)
Good Citizen Dog Scheme Dog (3 entries)
1st
Dee MELANITTA CARELINUS
Nice type. Very typical head although with one soft ear. Would benefit from muscling up behind which would improve his drive on the move.
2nd
Collins & Powley DANEHAVEN KOVIK
Another well-made dog with good angulation but carrying a little too much weight affecting his topline.
3rd
Bate-Ash EUSANIT HIT THE LIGHTS
Veteran Bitch (6 entries, 1 absent)
1st
Burchell TIVALAKE COVER GIRL RL1
Well, I thought the puppy class had come in early when I saw these two half-sisters still showing the joie di vivre of a pair of youngsters!  Two excellent examples of the breed but I preferred the frame and front assembly of my winner.  She was so well muscled with a delightful expression.  Another that could work all day and I was pleased to award her first CC.
2nd
Newson SH CH TIVALAKE MORE THAN WISHES
Very little to separate these lovely girls.  Another one who belies her age.
3rd
Littlehales MELANITTA AMBROSE OF KAYENDOR RL4
A larger, but typey bitch, well-angulated but slower on the move and not carrying her tail to advantage today.
Puppy Bitch (9 entries)
Junior Bitch (7 entries, 1 absent)
Special Beginner Bitch (9 entries, 1 absent)
Novice Bitch (13 entries, 1 absent)
Graduate Bitch (6 entries)
Post Graduate Bitch (6 entries)
Limit Bitch (12 entries)
Open Bitch (9 entries, 2 absent)
1st
Pashley WAKADUZE WAH PEN DAH SKA
A quality bitch in good coat and moved well in this class and the Good Citizen's afterwards although she flagged in the challenge.  If I was to be picky she could have a better return of upper arm but it seems miserly to comment compared to the whole picture.
2nd
Black SEAHAVEN PARISH BELL
A lovely old-fashioned type, very well constructed but just starting to show her age on the move.
3rd
Hunt WAKADUZE SKOO
Completely out of coat but with very little to hide!  Nice to see a fit bitch with the muscle to do a day's work.
Res
Adshead DANEHAVEN VERMILION FOR AFONBACH SHCM
VHC
Edwards AFONBACH SONG OF ICE AND FIRE
Good Citizen Dog Scheme Bitch (5 entries)