Bath

Saturday 31st July 2021
Judge: Mr Jonathan Daltrey (Bananadance)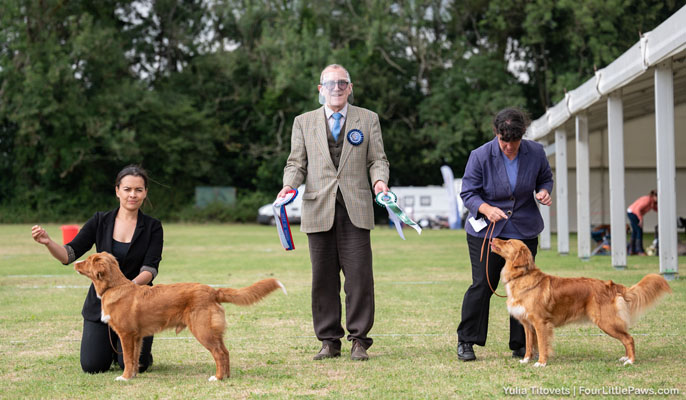 Veteran Dog (2 entries)
1st
Anstead MULTI CH RIVERWATCHER ATKA
He is a sound moving dog with a good shaped head, kind eye and a good bite. He was carrying enough weight for my taste but he still holds a good outline in profile and showed some accuracy coming and going.
2nd
Wakely RIVERWATCHER NUKILIK
Here was another good specimen, also carrying enough weight. He moved true and held a firm outline but did not use his tail to maximum advantage.
Minor Puppy Dog (3 entries)
1st
Nevers TOLLELKIN DREAM COVE AT SHELDRAKE
This baby is quite captivating. He makes a very strong statement on the stack, flowing from head to tail. He has the correct length of neck, excellent shoulders with superb angles and a very good length of upper arm. His topline is ultra firm and although initially I thought that he looked slightly longer cast, once you have your hands on him he is actually totally balanced with good ribbing and a firm hard and short loin. He was shown in lovely coat and condition and he carried his tail perfectly. His head, expression and dentition are text book and his movement is a total joy. He cannot move wrongly as he is so correctly made. He is good perfect in all directions with a captivating side gait that was not matched or beaten all day, I was pleased to award him the CC & BOB. I was absolutely delighted to learn that the Reserve Dog CC winner and the Bitch CC winner turned out to be his half-brother and half-sister!
2nd
Elkin TOLLELKIN DREAM HARBOUR
This is the litter brother to the winner who didn't make quite the same lovely flowing outline appearing a little more upright in shoulder and a little stuffy in neck. He too was very accurate on the move but not quite as fluid in profile action as his brother.
3rd
O'Reilly TOLLELKIN DREAM LOCH
Puppy Dog (6 entries)
Junior Dog (4 entries)
Yearling Dog (1 entry)
1st
Palfrey EUSANIT WILD ATLANTIC WAY
Another good type here, he just needs to fill his frame and to tighten up in his front action. On the stack he presents a very good outline and he maintains this extremely well with an excellent side gait.
Novice Dog (4 entries, 1 absent)
Post Graduate Dog (5 entries)
Limit Dog (9 entries)
1st
Elkin TOLLELKIN CAIFE AMERICANO
He was a good winner in this mixed class. I liked him for his excellent flowing outline, classic head and kind expression. He has a short firm loin, an excellent topline and great feet. On the move he showed accuracy coming and going and good extension in profile. I was pleased to award him the Reserve CC and I am thrilled to be told the he is a half-brother to the Dog CC winner and full litter mate to the Bitch CC winner.
2nd
Hunt RIVER WISE OF GREAT PLEASURE AT WAKADUZE (IMP BEL)
Here was another good type with a super head and expression but just not quite the scope of the winner. He is well balanced with a really lovely topline, excellent feet and he is an ultra-sound mover in all directions.
3rd
Parr KYMIN UPSHI KREEK
Res
Ward MELANITTA PALMATA JW
VHC
Newson TIVALAKE LET'S MISBEHAVE JW
Open Dog (9 entries)
1st
Titovets MULTI CH MACDREAMS TRENT FROM CASHEL VALE JW SGWC RL3 (IMP NLD)
A deep red dog in very good coat and condition and he certainly makes the most of himself on the move. In the final challenge for top honours he moved at too quick a pace and he tended to lose his topline at times. He is well made throughout with good bone, tight feet and good tail set and usage and has lots to offer the breed. In the challenge I just preferred the head and expression of the main two winners.
2nd
Wakely RIVERWATCHER KAVIKSUK
Here was a very accurate moving dog with a really lovely head and expression shown in hard well muscled condition. He has a lovely front and good feet and is balanced throughout. He pushed hard for top spot but he he was just not reaching out quite as much in profile but he was very close up to winning.
3rd
Parr KYMIN NEPTUNE
Res
Fielder SCHINDOW JUNIOR COWBOY WITH CRETSHENGAN
VHC
Fuard TOLLELKIN BAY OF ICE
Special Beginner Dog or Bitch (9 entries, 1 absent)
Veteran Bitch (1 entry)
1st
Andrews FALLOWFEN FAITHFUL YOKO OF JEMMATEE
At 9 years old this bitch has the sweetest of heads, was in great coat but she is just beginning to really show her age. I imagine that in her day she was a real picture.
Minor Puppy Bitch (2 entries)
1st
Elkin TOLLELKIN DREAM DANCER
I thought that this baby was really immature compared to her male litter mates. She has the same lovely head and expression and very good outline. She moved ok.
2nd
Andrews TOLLELKIN DREAM SPRING AT JEMMATEE
Another decent one from this litter but she was carrying far too much weight today. She too has a good head and expression and was a true mover.
Puppy Bitch (3 entries)
1st
Hipkiss AFONBACH FIRST SIGN O' SPRING AT DELTANDAMBA
This puppy has a really good flowing outline. Was in excellent coat and condition with lovely tight feet. She is a good mover and should have a bright future. Best Puppy Bitch
2nd
Anstead RIVERWATCHER KODA
Here was another good type but she was just not as positive behind. She has a good flowing outline too and was in superb coat and condition.
3rd
Sharpe ROSETTIA SHINING LIGHT
Junior Bitch (7 entries)
Yearling Bitch (7 entries)
Novice Bitch (13 entries)
Post Graduate Bitch (4 entries)
1st
Strevens TOLLELKIN CAIFE GAELACH AT TOLLISTY
This bitch is not flashy but she is very good to go over and she fits the standard very well. She has a lovely head and expression, a super front assembly with good width and muscle to her rear quarters. She moved well in all directions with style and precision and was in super coat and condition. Handled sympathetically to maximise her many virtues. I was very happy to award her the Bitch CC (her first) I am now pleased to see that she is a full sister to the Reserve Dog CC and a half-sister to the Dog CC and Best Of Breed winner!
2nd
Westwood EUSANIT BAY OF FUNDY
3rd
Winship STELLENBOSCH TATIANA
Res
O'Reilly KENYNTEN STREAM SONG
Limit Bitch (9 entries)
Open Bitch (10 entries, 1 absent)
1st
Fielder IR SH CH EUSANIT BEST OF THE BUNCH AT CRETSHENGAN
This quality bitch headed a mixed and quite disappointing class for me she was a clear winner with a lovely head and expression, super bone. Lovely feet, an excellent topline and she is a positive and fairly accurate mover. She pushed hard for top honours but I just preferred the coat and condition of the post graduate bitch and today I was pleased to award her the Reserve CC. I am not surprised to now hear that she has two tickets and I am sure that her crown will come soon for she will be a worthy champion.
2nd
Hunt WAKADUZE SKOO
A good mover here with a very strong outline and with an excellent flow from nose to tail. She was a touch out of coat but could not be denied her place today which she thoroughly deserved.
3rd
Black SEAHAVEN PARISH BELL
Res
Anstead SH CH/INT SH CH RIVERWATCHER PIKPAKTUK JW
VHC
Adshead DANEHAVEN VERMILION FOR AFONBACH SHCM
Stakes/Variety classes
AV Gundog Brace Stakes Dog or Bitch (17 entries)
Judge: R Allen
| | |
| --- | --- |
| 2nd | Davies ARELECHEN |
| VHC | Fielder CRETSHENGAN |
AV Gundog Breeders Dog or Bitch (4 entries)
Judge: R Allen
| | |
| --- | --- |
| 2nd | Westwood EUSANIT |
| 3rd | Anstead RIVERWATCHER |
AV Gundog Puppy Dog (20 entries, 10 absent)
Judge: Dr R W James